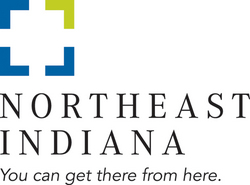 The Best of the Midwest
Fort Wayne, IN (Vocus) December 8, 2009
The Northeast Indiana Regional Partnership has been recognized by the Mid-America Economic Development Council (MAEDC) in its annual MAEDC Economic Development "The Best of the Midwest" awards ceremony held December 7, 2009. The Regional Partnership garnered six economic development marketing honors during this year's ceremony including four first place awards and two third place awards.
Earning first place finishes were the Partnership's monthly Northeast Indiana LEADS e-newsletter, the 2008 Northeast Indiana Regional Partnership Annual Report, the Regional Partnership's Web Site and the Success Stories Marketing Campaign which was launched in December of 2008 and carried through the Spring of 2009. Earning third place awards were the monthly Partnership Update e-newsletter and the Success Has A Home brochure. These publications can be located on the Regional Partnership's web site, ChooseNEIndiana.com.
MAEDC's annual "The Best of the Midwest" awards were presented at the Mid-America Competitiveness Conference, December 7, 2009. Organizations within MAEDC's ten-state region (Illinois, Indiana, Iowa, Michigan, Minnesota, Nebraska, North Dakota, Ohio, South Dakota and Wisconsin) are eligible for the annual awards that recognize and honor outstanding efforts in the development of marketing materials, marketing campaigns and events and in economic development. Award winners will be featured in the January 2010 issue of Site Selection Magazine
MAEDC judging criteria states that winners are selected based on the effectiveness of reaching stated goals, quality of content, visual impact, design, uniqueness, innovation and originality. NEIRP Marketing Manager, Erica McCutchan was on hand at the conference to accept the awards.
About the Northeast Indiana Regional Partnership:
Created in 2006, the Northeast Indiana Regional Partnership's mission is to market the 10-county region and team with local economic development organizations (LEDOs) to bring new jobs and commercial investment to the area. The Partnership concluded a successful Investment campaign in October of 2006 targeting an initial operating period of five years. The RP's global marketing efforts will be on behalf of LEDO's in Adams, Allen, DeKalb, Huntington, LaGrange, Noble, Steuben, Wabash, Wells and Whitley counties.
###