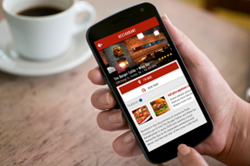 'This launch is important to the team behind maegan™,' Cris Jucan, maegan™ CEO says. 'We are thrilled to be launching at Magic Oven. This technology allows restaurant goers new flexibility, and the restaurateurs new tools to engage with their clients.'
Toronto, Ontario (PRWEB) May 21, 2014
Magic Oven has always been on the leading edge of technology, and this Wednesday night it will be in front again. Magic Oven is teaming up with an innovative, new Toronto tech firm to put the power of browsing a menu, ordering, and paying into a smartphone.
This is the future of food service. Celebrate with Magic Oven and be one of the first to try maegan™. Never wait in line for takeout. Never wait to order another drink. Never wait to pay a bill. The future is coming to Toronto.
Wednesday, May 21, 2014
6-9pm
798 Danforth Ave., Toronto
"maegan™ suits Magic Oven's innovative style," says Tony Sabherwal, Magic Oven owner. "We have been looking for an easy way to engage with our customers and make it easier to integrate technology into our restaurants. Our goal is to give our clients delicious food made with the best produce, and makes it as easy as possible for them to enjoy. It doesn't get any easier than an app!"
This launch is important to the team behind maegan™. Cris Jucan, maegan™ CEO says, "We are thrilled to be launching at Magic Oven. This technology allows restaurant goers new flexibility, and the restaurateurs new tools to engage with their clients."
Beginning this week, use the maegan™ app at all Magic Oven locations. The maegan™ app is available to download for iPhone, BlackBerry, and Android. maegan™ is also available at Beertown in Cambridge and The Bauer Kitchen in Waterloo with more to come.
For interviews please contact:
Cris Jucan
Tacit Innovation, maegan creator, 416-841-4474
Tony Sabherwal, Magic Oven owner, 647-567-8234
Interesting Statistics

64% of consumers have used a restaurant-focused mobile app.
Over 81% of diners would be likely to use a mobile app to view a menu, place an order or pay for a meal at fast casual restaurants.
Over 82% of diners would be likely to use a mobile app to view a menu, place an order, or pay for a meal at a casual dining restaurant.
78% of those using mobile apps at a restaurant were satisfied with the experience.
-Consumer Research Study
FAQ – maegan™
What is maegan™?
maegan™ is a mobile-enabled platform that empowers restaurant-goers to browse menus, manage their orders and pay for their meals from the comfort of their own smartphones. It seamlessly integrates with current in-restaurant systems and technologies making it easy for restaurants to adopt the services. Find out more about maegan™.
How does it help consumers?
maegan™ extends in-restaurant services directly to the consumer mobile devices for an enriched dining experience. Control your dining pace, menus and orders as you want them.
How does it help restaurants?
maegan™ promotes discounts and promotions, increases restaurant revenue and lowers the cost of wait staff and operation efficiencies.
Why did you make the app?
Cris, one of our founders, was frustrated one day while enjoying a drink with some friends. His drink was empty and no server in sight. He waited and waited. Being the innovative entrepreneur it occurred to Cris: "Wouldn't it be cool to do this on my phone. I could order the drink I have been waiting for right now". The next day, he started researching and found out there was nothing comparable on the market. Until now!
The future is in your hands, meet maegan™ and never wait for a drink again.
Why is it different from opentable.com?
The Opentable platform is ideal for making reservations. maegan™ is an end to end dining experience that is available on your own smartphone or tablet.
What restaurants use maegan™?

Beertown Public House, Cambridge
The Bauer Kitchen, Waterloo
Magic Oven, Toronto
Is there any cost for using the app?
The maegan™ app is free for customers.
How do I set up my dietary preferences?
You can set up your dietary preferences within the maegan™ app. Access your preferences in the top left corner. From here you can select which allergies and dietary preferences apply to you.
What payment options are available?
Payment options depend on each restaurant. maegan™ works with Visa Mastercard, Amex and even Bitcoin.
I own a restaurant. How can I get maegan™ for my location?
We would love to introduce maegan™ into your restaurant. Please contact us for more details. http://maegan.co/contact-us/.