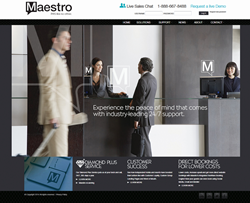 The Maestro PMS logo with the M in the conversation bubble assures our clients that we are always ready to listen, talk and have a conversation.
(PRWEB) April 02, 2015
Maestro PMS™ launched a new look and feel to emphasize the company and its solutions are "like no other." The company's image, branding and website are completely new, but Maestro's team, professional services, and focus on developing solutions that drive success for independents will continue unchanged. Maestro's new branding extends to its marketing materials and user documentation, and will soon include Maestro PMS' browser-based solutions. Click here to learn more about Maestro's solutions for profitability and productivity.
Maestro is always ready to listen to clients
Maestro's new logo is instantly recognized as the 'conversation bubble' used on many social media sites. Maestro PMS President Warren Dehan said, "The Maestro PMS logo with the M in the conversation bubble assures our clients that we are always ready to listen, talk and have a conversation. Our emphasis on communication extends to helping our clients develop meaningful, effective relationships with their guests."
Maestro PMS Enterprise Property Management provides more than 20 hotel software and reservation software solutions for the industry's leading independent hotels, resorts, and multi-property groups.
Dehan emphasized that Maestro's rebranding will not affect the company's internal structure or its commitment to its clients' success. "We are the same experienced Maestro team that our clients have built their relationship with. Maestro's refreshed branding shows that our vision and product development is in line with emerging technologies while we retain the strength of our support and client relationships. Our people and the personal way they serve our users is unchanged."
For more information on the Maestro PMS or for a demo of the Maestro Property Management Suite's more than 20 modules please contact Maestro PMS at 1.888.667.8488 or email info(at)maestropms(dot)com.
Exchange ideas and connect with Maestro PMS on Twitter, Facebook, and LinkedIn.
Maestro Property Management Solution
Enhance guest service, improve efficiency, and maximize online and offline revenue with Maestro PMS, the industry's most robust and flexible resort software and boutique hotel software solution empowering leading full-service hotels, luxury resorts, multi-property groups, conference centers, condominiums, and timeshare properties. Solutions include Front Office (PMS), Accounts Receivable, Analytics and Business Intelligence, Sales and Catering, Multi-Property Management, Condo & Timeshare Owner Management with Web Functionality, Spa and Activities, Web Booking Engine, Real-Time Yield Management, Dynamic Packaging Golf, CRM, Guest Experience Measurement, CRO, GDS Two-Way XML Connectivity or Integration, Membership, Work Orders, Fine Dining and Retail POS, Online Table Reservations with Web Booking, and Concierge. The Maestro PMS is database independent (ODBC Compliant) and may be deployed via Windows, UNIX, Linux, Terminal Services, hosted, and Web platforms.
About Maestro PMS
Maestro PMS is recognized in the hospitality industry for its standard-setting Diamond Plus Service and robust integrated Maestro resort hotel software technology. With more than 30 years' experience dedicated to developing technology solutions for the hospitality industry, Maestro PMS is a partner who understands you need a scalable, flexible PMS that works the way you do. Maestro applications are engineered for operators who need to manage their enterprise in a real-time environment for the utmost operational efficiency, productivity, control, and profitability.