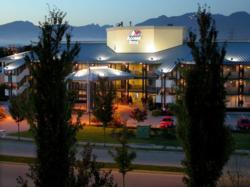 We evaluated a number of other companies and Maestro was the best system that delivered an advanced, integrated multi-property function on a single database. No other companies offered this.
Markham, ON (PRWEB) April 20, 2011
NORTHWIND, provider of Maestro ™ Property Management hotel software and reservation software solutions for the industry's leading independent hotel, resorts, and multi-property groups, announced that 17 independent resorts, boutique hotels, and multi-property companies selected NORTHWIND's Maestro Property Management Suite in 1Q 2011. Click here to learn more about Maestro's solutions for profitability and productivity.
New Maestro users include Accent Inns with six properties; the world-class destination resort Oak Bay Beach Hotel in Victoria, British Columbia; Schooner Inn; the oceanfront Marjac Suites in Virginia Beach; the Barclay Towers Hotel and Resort; SouthernMost Resorts with three properties in Key West, FL; Quyana Hospitality Services in Anchorage, Alaska; The Cheshire Hotel full-service boutique in St. Louis, MO (sister property of The Seven Gables Inn); and the beautiful Bolongo Bay Beach Resort in St. Thomas, US Virgin Islands.
Maestro's single image database will consolidate guest records for all hotels in one place
"Accent Inns, a well-known family owned and operated chain in B.C., selected the Maestro 'True Multi-Property™' PMS with its single-image database and ResWave integrated online booking engine for our six hotels because it was the best fit for us," said Dave Splawski, director of operations for the Victoria based hotel chain. "Maestro's single-image database will consolidate the guest history files from our Victoria, Vancouver Airport, Burnaby, Kelowna and Kamloops locations, all in one place and allow for easy access and effective online marketing. We evaluated a number of other companies and Maestro was the best system that delivered an advanced, integrated multi-property function on a single database. No other companies offered this. Likewise, the ResWave online booking engine is fully integrated with Maestro's multi-property database to ensure rate integrity and optimization across all our hotels." Accent Inns and the company's Blue Ridge Inn will go live with Maestro chain wide in mid 2011.
Multi-property groups rely on Guest-Centric Maestro to streamline enterprise operations
Maestro's 'True Multi-Property' solution provides over 20 fully integrated modules designed to give corporate managers 360-degree visibility into each hotel's operation and each guest's preferences across their entire enterprise.
"Bolongo Bay Beach Resort chose the Maestro Front Office, Sales & Catering, and POS systems to automate the entire resort with one technology platform to simplify our operation and increase profitability & productivity," said Katarina Doumeng, director of sales for Bolongo Bay Beach Resort. "Maestro's applications are easy to learn and use. NORTHWIND specializes in enabling unique independent resorts like ours to be more successful. NORTHWIND also has an excellent reputation for service, which was very important to our decision."
The luxury Oak Bay Beach Hotel in Victoria, B.C. will install Maestro Front Office, Sales & Catering, Spa & Activities Management, Condo Owner Management, Membership Management, and ResWave online booking engine. "Our 100 units are owned by individual owners and Maestro's total-property system with integrated ownership management is ideal for our resort," said Shawna Walker, owner and vice president of the Oak Bay Beach Hotel. "The ResWave online booking engine will extend our marketing reach and drive booking revenue from web channels. NORTHWIND understands the unique needs of independent operators and their comprehensive, multi module Maestro technology was the most effective solution for our condominium resort."
Maestro's flexibility impressed Quyana Hospitality Services. "Maestro was the best system for our operation's unique needs because of its flexibility," said Carol Dunn, general manager of Quyana Hospitality Services. "Quyana is a unique organization that can house over 100 people and their families who travel here for outpatient treatment. The NORTHWIND team adapted Maestro to perfectly meet our needs. They are a very professional organization."
Going to HITEC 2011 in Austin? Visit Booth 323 to meet the Maestro team.
For a demo of the Maestro Property Management Suite featuring the ResWave Booking Engine, please contact NORTHWIND at 1.888.667.8488 or email info(at)maestropms(dot)com.
Exchange ideas and connect with NORTHWIND on:
Twitter, Facebook, and LinkedIn
Maestro Property Management Solution
Enhance guest service, improve efficiency, and maximize online and offline revenue with Maestro PMS, the industry's most robust and flexible resort software and boutique hotel software solution empowering leading full-service hotels, luxury resorts, multi-property groups, conference centers, condominiums, and timeshare properties. Solutions include Front Office (PMS), Accounts Receivable, Analytics and Business Intelligence, Sales and Catering, Multi-Property Management, Condo & Timeshare Owner Management with Web Functionality, Spa and Activities, Web Booking Engine, Real-Time Yield Management, Dynamic Packaging Golf, CRM, Guest Experience Measurement, CRO, GDS Two-Way XML Connectivity or Integration, Membership, Work Orders, Fine Dining and Retail POS, Online Table Reservations with Web Booking, Concierge, and Guest Experience Measurement. The Maestro PMS is database independent (ODBC Compliant) and may be deployed via Windows, UNIX, Linux, Terminal Services, hosted, and Web platforms.
About NORTHWIND – Maestro PMS
NORTHWIND is recognized in the hospitality industry for its standard-setting Diamond Plus Service and robust integrated Maestro resort hotel software technology. With over 30 years' experience dedicated to developing technology solutions for the hospitality industry, NORTHWIND is a partner who understands you need a scalable, flexible PMS that works the way you do. Maestro applications are engineered for operators who need to manage their enterprise in a real-time environment for the utmost operational efficiency, productivity, control, and profitability.
###