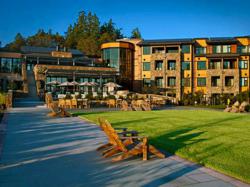 The excellent results they delivered were particularly valuable because they stayed within the Allison Inn's budget.
Markham, ON (PRWEB) May 18, 2011
Independent operators earn healthy revenue and high return on internet ad spend thanks to savvy web marketing strategies that send guests to a property's website for direct reservation booking. Two operators, The Allison Inn, and the Inn at ONU, banked more than $100,000 in new online revenue in the first three months of 2011 through their NORTHWIND Maestro™ ResWave™ booking engine. NORTHWIND provides the Maestro Property Management and ResWave software solutions for the industry's leading independent hotel, resorts, and multi-property groups. Click here to learn more about Maestro's solutions for profitability and productivity.
The Allison Inn and the Inn at ONU tapped leading industry experts Hospitality eBusiness Strategies (HeBS) to create online e-marketing programs to drive prospective visitors to their websites to book reservations on through their Maestro ResWave hotel software booking engine. ResWave reservation software is part of Maestro's integrated Web Connection suite that gives operators real-time direct website booking capability and customized control of rates and availability across online channels to maximize profitability. HeBS updated each property's website and implemented paid search programs with Yahoo, Google Places, and Bing, and created eNewsletters that worked together to increase website visits, conversions, and revenue.
The Allison Inn Earns $98,000+ in Online Revenue with ResWave -100% Increase Over 2010
The Allison Inn, a luxury destination resort located in the Oregon wine country's Willamette Valley, realized more than $98,000 in direct booking web revenue through ResWave in 1Q'11 – a 5,319% return on advertising spend. In March 2011 alone, HeBS' online marketing programs earned The Allison Inn:

15,085 website visits, of which 2.7% booked reservations through ResWave,
$23,974 in revenue from Google ads generated from $1,386 in ad cost,
Nearly 100% increase in web revenue over 2010.
The Allison Inn also earned a 2,500% return on ad spend through HeBS' promotions. All these campaigns directed visitors to book reservations and packages on The Allison's Maestro ResWave booking engine. ResWave is fully integrated in the Inn's Maestro Property Management System so its real-time availability is always accurate.
"HeBS understands the best strategies for each market and their work for The Allison Inn is clearly on target to attract the right guests," said Linda Bruno, marketing consultant for The Allison Inn. "The excellent results they delivered were particularly valuable because they stayed within the Allison Inn's budget."
The Inn at ONU has best month since opening - books $10,000+ in ResWave reservations The Inn at Ohio Northern University is a full-service luxury hotel in Ada, Ohio. The Inn partnered with HeBS to launch a new website to accommodate their growth. "In 2010 we worked with Maestro and HeBS to expand our online presence," said General Manager Tallene Eichelberger. "Our goal is to guide shoppers to experience our website and ultimately book reservations on ResWave. We're proud that April 2011 has proven to be our property's best month since we opened in 2008 - and this includes increases in occupancy, RevPAR, and revenue."
HeBS' work included an effective search engine marketing program, ad placements in Google, Yahoo, and other channels. They also created a monthly email marketing campaign to guide shoppers to The Inn's ResWave booking page so that they may instantly reserve a room or package. The results of The Inn's online marketing and direct web booking are impressive:

$10,000+ in online revenue booked through ResWave in March 2011,
The Inn at ONU's website had 2,744 visits, and 35% resulted in reservation bookings,
Search engine marketing alone produced $1,800+ in March revenue.
"We opened with the Maestro Front Office System and ResWave booking engine and worked with NORTHWIND's team to continually improve our marketing strategies and revenue," Eichelberger said. "NORTHWIND suggested HeBS and the companies have worked together very effectively to boost our revenue and drive much higher occupancy with their combined sales and marketing assistance. I think any independent operator would benefit from their companies."
Going to HITEC 2011 in Austin? Visit Booth 323 to meet the Maestro team.
For a demo of the Maestro Property Management Suite featuring the ResWave Booking Engine, please contact NORTHWIND at 1.888.667.8488 or email info(at)maestropms(dot)com.
Exchange ideas and connect with NORTHWIND on:
Twitter, Facebook, and LinkedIn
Maestro Property Management Solution
Enhance guest service, improve efficiency, and maximize online and offline revenue with Maestro PMS, the industry's most robust and flexible resort software and boutique hotel software solution empowering leading full-service hotels, luxury resorts, multi-property groups, conference centers, condominiums, and timeshare properties. Solutions include Front Office (PMS), Accounts Receivable, Analytics and Business Intelligence, Sales and Catering, Multi-Property Management, Condo & Timeshare Owner Management with Web Functionality, Spa and Activities, Web Booking Engine, Real-Time Yield Management, Dynamic Packaging Golf, CRM, Guest Experience Measurement, CRO, GDS Two-Way XML Connectivity or Integration, Membership, Work Orders, Fine Dining and Retail POS, Online Table Reservations with Web Booking, Concierge, and Guest Experience Measurement. The Maestro PMS is database independent (ODBC Compliant) and may be deployed via Windows, UNIX, Linux, Terminal Services, hosted, and Web platforms.
About NORTHWIND – Maestro PMS
NORTHWIND is recognized in the hospitality industry for its standard-setting Diamond Plus Service and robust integrated Maestro resort hotel software technology. With over 30 years' experience dedicated to developing technology solutions for the hospitality industry, NORTHWIND is a partner who understands you need a scalable, flexible PMS that works the way you do. Maestro applications are engineered for operators who need to manage their enterprise in a real-time environment for the utmost operational efficiency, productivity, control, and profitability.
# # #