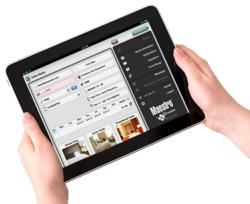 Independent operators look to NORTHWIND to develop advanced guest-experience amenities that enable them to offer valuable, unique services that drive revenue and increase productivity; our new Maestro Xpress Check-in solution delivers all this and more.
Markham, ON (PRWEB) May 15, 2012
NORTHWIND, provider of Maestro™ Enterprise Property Management hotel software and reservation software solutions for the industry's leading independent hotels, resorts, and multi-property groups, announced it will launch the 'New Face' of hotel service and productivity at HITEC 2012 with its Maestro iPad Xpress Check-In app. HITEC will be held June 25 – 28 in the Baltimore Convention Center. Click here to learn more about Maestro's solutions for profitability and productivity.
NORTHWIND's Xpress Check-In app lets properties use iPads and other tablet devices for personalized mobile check-in and check-out services with seamless remote access to the Maestro Property Management Suite. NORTHWIND combined its industry experience with the latest iPad application advances to supercharge guest service and optimize revenue and productivity. With the portability, large screen and long battery life of the iPad, it is suited very well for the round-the-clock hotel industry. The Maestro Xpress iPad solution enables staff to perform all the system check-in and -out functions of a wired front desk terminal anywhere a wireless signal is available. This is tomorrow's technology today that meets the emerging demands of tech-savvy travelers.
Maestro Xpress Check-In handles every aspect of guest check-in and check-out including:

Curbside or lobby wireless check-in and check-out
Personalized upsell and room-change capability with real-time availability access
Guest registration signature capture
Remote group conference check-in and room blocking
Remotely encode magstripe and RFID room keys from the iPad
Credit card payment capture with PCI compliant processing
Guest message delivery from the iPad, or emailed instantly to the guest's address.
Xpress Check-In registers entire groups from meeting rooms and conference spaces
Maestro Xpress Check-In is ideal for processing large groups quickly and conveniently to keep the lobby operating smoothly. Groups and conference attendee registration may be handled in a meeting room, at a welcome reception, or during a kick-off meeting. Entire tour groups may also be registered, their credit cards processed, and keys encoded and distributed while still on their bus for greater convenience.
"Independent operators look to NORTHWIND to develop advanced guest-experience amenities that enable them to offer valuable, unique services that drive revenue and increase productivity; our new Maestro Xpress Check-in solution delivers all this and more," said Warren Dehan, NORTHWIND president. "We worked with IJWS to create our iPad Xpress Check-In app that integrates with Maestro PMS to register guests in the lobby or curbside for the ultimate in personalized service and upsell capability." IJWS (It Just Works Software Corporation) has specialized in the development of hospitality systems since 1996. It is a leader in the self service check-in/check-out kiosk market.
Going to HITEC 2012 in Baltimore? Visit Booth 1010 to meet the Maestro team and get personal Maestro demonstration.
For a demo of the Maestro Property Management Suite featuring the ResWave Booking Engine, please contact NORTHWIND at 1.888.667.8488 or email info(at)maestropms.com.
Exchange ideas and connect with NORTHWIND on:
Twitter, Facebook, and LinkedIn
Maestro Property Management Solution
Enhance guest service, improve efficiency, and maximize online and offline revenue with Maestro PMS, the industry's most robust and flexible resort software and boutique hotel software solution empowering leading full-service hotels, luxury resorts, multi-property groups, conference centers, condominiums, and timeshare properties. Solutions include Front Office (PMS), Accounts Receivable, Analytics and Business Intelligence, Sales and Catering, Multi-Property Management, Condo & Timeshare Owner Management with Web Functionality, Spa and Activities, Web Booking Engine, Real-Time Yield Management, Dynamic Packaging Golf, CRM, Guest Experience Measurement, CRO, GDS Two-Way XML Connectivity or Integration, Membership, Work Orders, Fine Dining and Retail POS, Online Table Reservations with Web Booking, Concierge, and Guest Experience Measurement. The Maestro PMS is database independent (ODBC Compliant) and may be deployed via Windows, UNIX, Linux, Terminal Services, hosted, and Web platforms.
About NORTHWIND – Maestro PMS
NORTHWIND is recognized in the hospitality industry for its standard-setting Diamond Plus Service and robust integrated Maestro resort hotel software technology. With over 30 years' experience dedicated to developing technology solutions for the hospitality industry, NORTHWIND is a partner who understands you need a scalable, flexible PMS that works the way you do. Maestro applications are engineered for operators who need to manage their enterprise in a real-time environment for the utmost operational efficiency, productivity, control, and profitability.