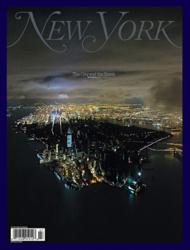 "The celebrity on the cover of a leading fashion publication will gain recognition as being embraced by those who decide the current trends. 'Cover Girl Effect' is both powerful and predictable." ~ Impact Magazine
Minneapolis, Minnesota (PRWEB) May 07, 2013
On May 1st at the ASME Annual Meeting honored the ASME Best Cover Contest Finalists and The Cover of the Year Winner. The Magazine covers that took awards in all 10 categories were announced with a few surprises and celebrated with genuine praise. The Magazine Cover of the Year Award is a highly coveted magazine media award given out annually; this year going to the photo aptly named "The City and the Storm".
"Many a photographer took photos that captured the day fateful Hurricane Sandy hit; however, our magazine cover winner was already an icon of the storm few Easterners will forget," says Eric Sims, owner of Integral Media. Given readers love for holding a glossy print magazine in their hands and finding the quite of reading on their on time, these magazine covers indeed deserve the place they take as iconic sums of our history and the emotions that followed the events.
The image was captured on Wednesday evening after Hurricane Sandy hit; Iwan Baan's photograph of Manhattan, borrowed the strangeness of the moment with the half daylight and half dark that eerily unveiled the scene and its wreckage. The photo and the tale it tells were described well in Adage in their article See The Astonishing Magazine Cover of the Year. It offers a bird's eye view of "a powerful city rendered powerless. A true viral phenomenon, it is a magazine cover that many New Yorkers have saved for posterity. In fact, a poster version was offered for sale by the Museum of Modern Art".
As listed by the American Society of Magazine Editors, magazine cover winners in additional categories are:

Entertainment and Celebrity - The New York Times Magazine, December 23, 2012 "Jerry Seinfeld Is 58, Rich Beyond Imagination and Still Working"
Most Delicious - Garden & Gun, October/November 2012 "Perfect Southern Food"
Sports and Adventure - The New York Times Magazine, August 26, 2012 "Deuce" Brainiest - Bloomberg Businessweek, May 28 – June 3, 2012 "Bang Head Here"
Service - The Rotarian, March 2012 "The Future of Water"
Fashion and Beauty - Harper's Bazaar, March 2012 "Gwyneth Revealed"
Business and Technology - Bloomberg Businessweek, February 6-12, 2012 "Let's Get It On"
"In 2001, another current capturing both art strong emotion, as Newsweek's September 11, 2001 issue took the award. The first covers startled viewers with its graphic imagery of the explosion of the south tower at the World Trade Center. Magazine covers convey life changing moments in an instant, and the accompanying contents are treasured by readers for their accuracy and in-depth coverage of moments to big to take in when first hearing of them," states Sims.
In the marketing world, the responsibility of magazines to meet reader's desire for editors that tell current newsworthy moments with a deeply personal yet historically broader perspective. Magazine ads prove to be effective in magazine recordings of historical events that change our lives and nation.
"Stating the obvious, magazine publications are powerful resources. November 1988 was the year Anna Wintour changed the face of fashion publications forever. Putting jeans worth $50 with a bejewelled Christian Lacroix top worth $10,000 on the cover caused a riot among writers. Considering that the printers later called Wintour herself to ensure a mistake hadn't been made, it's evident that what and perhaps more crucially, who is on the cover of a magazine shapes not only trends but also their career," said Impact Magazine in a March 1, 2013 article Cover Girl: The Power in the Publications.
A few controversial covers have successfully sold more magazines and magazines ads, or won awards for the editors who braved risks and went to press with them, others ended up being mistakes that the magazine publication had to either apologize for.
Integral Media's comprehensive media consulting services and integrated media buyers have been helping business build their brands since 1999. Whether working with advertising agencies or directly with brand managers, company owners, or direct marketers, Integral Media helps clients realize their biggest media reach per dollar invested. Call 952-470-5254 for media leaders that consistently win more business.