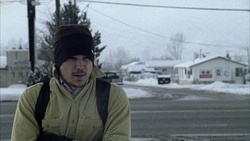 Just as the print version of T has always had an unconventional relationship with the world of celebrity, we wanted to give our readers a fresh perspective on the new generation of film stars, and Brody has truly accomplished that with the 'T Takes' series
NEW YORK (PRWEB) March 17, 2008
Mr. Baker traveled to the Sundance Film Festival on behalf of T with the goal of enlisting mainstream and indie film actors to take a break from the screenings and the slopes in Park City, Utah, to improvise a series of linked, episodic short films. The series includes performances by Josh Hartnett (from "August," "The Black Dahlia," and "Wicker Park"), Morena Baccarin, Andre Royo (from "The Wire"), Michael Pitt and Brady Corbet (both in Michael Haneke's "Funny Games," the new thriller directed by Michael Haneke and starring Naomi Watts), Michael Stahl David (from "Cloverfield"), Saffron Burrows (from "Boston Legal" and "Reign Over Me"), Lukas Haas, Mark Webber, Jason Ritter, Josh Lucas (from "A Beautiful Mind" and "Sweet Home Alabama") and Athena Currey.
"The T Magazine Web site is now the destination to discover fantastic original video - the kind of short films you cannot find anywhere else, on or off line," said Stefano Tonchi, editor of T: The New York Times Style Magazine. "'T Takes,' by the talented Brody Baker, reflects what the T community online is all about: discovering what is new and hot in stylized online storytelling."
"Just as the print version of T has always had an unconventional relationship with the world of celebrity, we wanted to give our readers a fresh perspective on the new generation of film stars, and Brody has truly accomplished that with the 'T Takes' series," said Horacio Silva, the features director and online director of T. "Since the online launch of T last fall, we have been experimenting with new ways to give our users interesting perspectives through video interviews and short films, and we will continue to bring our audience original features such as this series."
Starting today, a new episode of the 12-part series will be online at 10 a.m. ET each weekday at: http://www.nytimes.com/indexes/2008/03/16/style/t/index.html #pageName=tvideos3 (Due to its length, this URL may need to be copied/pasted into your Internet browser's address field. Remove the extra space if one exists.)
T Takes Credits:
-- Director and Writer: Brody Baker
-- Executive producers: Jefferson Bjoraker, Tom Poole
-- Producers: Brody Baker, Shelly Zander
-- Associate producer: Colin Devin Moore
-- Director of photography: Tobias Datum
-- Editor: Joseph Krings
-- Casting director: Jauretsi Saizarbitoria for Starworks
-- Music for trailer courtesy of: "Is There a Ghost," by Band of Horses, Sub Pop Records
-- Music for Athena Currey movie: "Attitude," by Bad Brains, Roir Records
NYTimes.com continues to reach a large, educated and affluent audience. It is the most visited newspaper site in the U.S. with an audience of 19 million unique users (February 2008 - Nielsen Online).
About T: Magazine
T: Magazine is published 15 times a year by The New York Times and is the premier magazine for all things in fashion and design. T: Magazine is written for a smart, discerning audience with an interest in incorporating style in all aspects of their lives. Originally published in 2004 under the direction of Stefano Tonchi, the magazine collection features dedicated issues on women's and men's fashions, beauty, travel, lifestyle and design and has an annual Holiday edition. Each issue of T contains columns and features by a range of writers including Lynn Hirschberg, Alex Kuczynski, Suzy Menkes and Alice Rawsthorn, among others. The T Magazine Web site launched in November 2007. T is published internationally in the International Herald Tribune.
About The New York Times Company
The New York Times Company (NYSE: NYT), a leading media company with 2007 revenues of $3.2 billion, includes The New York Times, the International Herald Tribune, The Boston Globe, 15 other daily newspapers, WQXR-FM and more than 50 Web sites, including NYTimes.com, Boston.com and About.com. The Company's core purpose is to enhance society by creating, collecting and distributing high-quality news, information and entertainment.
This press release can be downloaded from http://www.nytco.com