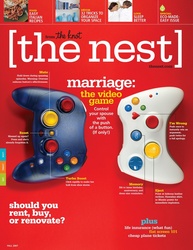 NEW YORK (PRWEB) August 30, 2007
-- Marriage, The Video Game: What would you do if you could control your spouse with the push of a button? Pump "Panic" when your mother-in-law calls? Hit "I'm Sorry" for instant forgiveness? Cast your vote on the peeve that pushes your buttons most at http://www.thenest.com/videogame for a chance to win an all-inclusive second honeymoon at Couples Resorts Jamaica (p. 78).
-- The New Bedroom Rules: The latest "Bediquette" guide (p. 24) takes on all topics related to sharing a bed: snoring, talkative mates, TV addiction and working when under the covers (did you know that 88 percent of young marrieds make it a rule not to blackberry in bed?).
-- Build a "Green" House: Learn how one couple transformed a brownstone into an eco-chic haven, from sealing bamboo floors with low VOC to using 100-percent recycled glass tiles in their bathroom. Plus, the top websites that cater to an environmentally friendly lifestyle-from hot home decor to finding organic foods to stock your kitchen and even a green realtor! (p. 80)
-- Rent, Buy or Renovate?: The First Time Buyer's Guide provides must-ask questions for realtors, dispels buying myths and dissects the condo vs. co-op classifications--in "real people" terms (p. 88).
-- Quick-Clean Your Home: Unexpected guests called to say they'll be over in 20 minutes? Find out how to not only impress them, but to even pass the white glove test in six steps, from wiping a mirror with vinegar to a five-second centerpiece (p. 52).
-- Perfect Pasta Recipes: Get a primer on pesto, pasta, olives and grill pans from The Nest food experts--and recipes for rock shrimp risotto and grilled lamb chops crafted by Marc and Pamela Murphy, owners of NYC's superhot Landmarc restaurant (p. 68).
-- Home Computer for Two: Learn how to technologically merge while still protecting individual privacy and joint identities online--from separate log-ons to shared folders, ground rules for online surfing and maintaining two bank accounts (p. 110).
-- Flat Screen Guide: Get the skinny on new slim sets, where to score the best deals and how to rearrange your room to take full advantage of the view. Plus, a quick fix guide to setup issues, from missing sound to fuzzy pictures (p. 105).
To subscribe to The Nest Magazine, visit https://magazine.thenest.com or call 1-800-975-0946.
To speak with an editor at The Nest, get high resolution photos, or speak with real couples about these hot topics and more on married life, please contact Katie Nida-Rovano at (212) 219-8555 x1228 or email pr@thenest.com.
About The Nest
The Nest (http://www.thenest.com) is a hip guide to all things happily ever after. The popular offshoot of The Knot takes a stylish, practical approach to all things young marrieds need to know: merging finances, buying and decorating homes, cooking and entertaining, family relationships and more through weekly blogs, expert Q&A, an online community, interactive tools and a quarterly magazine. The Nest is a part of The Knot Inc. lifestage network (NASDAQ: KNOT).