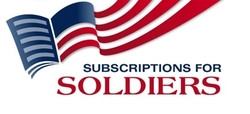 (Vocus) March 4, 2009
Since 1996 Americans have recognized March 4 as Hug a G.I. Day to honor U.S. service members. The date March 4 is a great day to recognize the sacrifice and commitment of U.S. service members because it is the only date on the calendar that is a military command, "march forth" according to the tribute day's inventor, Adrienne Koopersmith, a Chicago-based cartoonist and writer.
With this in mind, the Subscriptions for Soldiers program asks citizens to send a symbolic hug today by donating a magazine subscription to active-deployed service members. For just $10 a service member will receive a year-long magazine subscription through the program, presented by Magazines.com. Choose from 30 magazine titles like Guns & Ammo, Muscle & Fitness, Shape and Star.
More than 3,000 deserving soldiers have signed up through Subscription for Soldiers' database to receive a magazine subscription at no cost to them. Donate to a service member you know or be paired with a soldier anonymously.
About Subscriptions for Soldiers
Subscriptions for Soldiers provides citizens and corporate sponsors the opportunity to show support to troops deployed overseas by sponsoring a magazine subscription. Service members sign up for free one-year subscriptions at http://www.subs4servicemembers.com. Subscriptions for Soldiers then pairs that service member's request with a subscription sponsor. Individuals who want to sponsor a service member's subscription visit http://www.subs4soldiers.com and make a donation of $10 or more to give a free subscription to a service member overseas. Subscriptions for Soldiers connects service members, those they serve and the life we all cherish. For more information on Subscriptions for Soldiers, visit http://www.subs4soldiers.com or call (800) 673-1289.
###