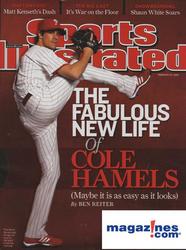 (Vocus) February 25, 2009
February 25, 2009-- Spring training has been a major part of America's "National Pastime" since 1870. The key ritual takes teams from both the American and National Leagues to Arizona and Florida for a series of practices and exhibition games for the two months leading up to the beginning of the regular season. Teams that train in Arizona are nicknamed the Cactus League and teams that train in Florida are nicknamed the Grapefruit League.
Spring training is a time for unrestrained optimism for baseball fans; they flock with wild enthusiasm to watch their favorite teams' line-ups post trades and acquisitions for a preview of what's to come for the regular season.
Magazines.com understands the pure excitement of spring training and beyond; after all, there are some big sports stories poised to shake out this season.
For starters, will A-Rod survive the media frenzy surrounding his drug use-confession and lead the Yankees to the World Series? Will the Phillies remain serious contenders? Will the Yankee's $423.5 million acquisition of CC Sabathia, A. J. Burnett and Mark Teixira pay off? Will Manny Ramirez shack up with the Dodgers? And finally, is this the year the Cubs will finally bring World Series glory back to Chicago for the first time since back-to-back titles in 1907 and 1908?
To help fans stay up-to-date on the 2009 season's happenings Magazines.com is featuring significantly discounted magazine subscriptions to the best-selling sports magazines like Sports Illustrated, Sports Illustrated Kids, ESPN The Magazine, Sports Weekly, The Sporting News and Baseball Digest.
About Magazines.com
Magazines.com is a privately-held company based in Franklin, Tenn. Major investors in Magazines.com are Anderson Media, one of the top U.S. wholesale distributors of magazines, music, books, and videos and Time Inc., publisher of People, Sports Illustrated and Time magazines.
With more than 1,900 titles available, Magazines.com offers people a fun, easy way to discover new magazines and helps them track subscriptions. Magazines.com is the leading independent agent selling subscriptions, serving customers online at Magazines.com and by telephone at 800-MAGAZINES (800-624-2946.)
###