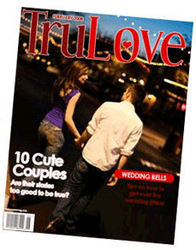 With the economy and gas prices how they are, it's nice to have such a unique gift that's affordable and available from home.
Scottsdale, AZ (PRWEB) July 31, 2008
A new website has launched an easy and fun service that turns personal photos into full fledged magazine covers. The website, http://www.MagMyPic.com, introduced an easy process that allows even novice users to put their picture on the cover of a magazine. MagMyPic's newest feature allows users to purchase these magazine covers as full size prints.
MagMyPic.com first launched in October of 2007 as a free tool to make fake magazine covers online. Over 15 million magazines were created and distributed online within the first 10 months. After users clamored for the ability to purchase their magazine covers as real prints, MagMyPic built a system to do just that.
The result is a simple process that automates nearly everything for the user. Once a photo is selected, the site automatically uploads, crops, positions, and resizes it all behind the scenes. The user then simply selects which magazine cover to use. When a magazine is selected, an instant preview shows exactly how the final print will look.
The feature to purchase the magazine covers launched on July 16th, 2008. A standard 8x10 magazine cover costs $9.95. Covers can be printed as large as a 16x20 poster. This new feature also allows users to frame the pictures and purchase other novelty gifts such as mouse-pads and tee-shirts.
Matt Parrett, the lead developer behind MagMyPic.com, thinks the timing is good for buying prints. "With the economy and gas prices how they are, it's nice to have such a unique gift that's affordable and available from home."
Matt gives many examples of how these prints can be used as novelty gifts. A husband can surprise his wife with wedding pictures on the cover of Bride. A father-son photo on a sports magazine or a framed picture of the family dog on PetFancy are other examples. With over 30 magazines ranging from Style to Outdoors, a wide range of options are available.
"A lot of publishing companies have tried to make systems like this, but they always overcomplicated them," said Andy Holloway, the site's creator. "Our site actually makes it fun to make the magazine covers and users have been really impressed with their prints."
For additional information on personal magazine printing (or for a sample, copy or demo), contact Jason Moore or visit MagMyPic.com.
About MagMyPic.com
MagMyPic.com, a unit of Tree Room, LLC, is a free website dedicated to helping people add creativity to personal photos. MagMyPic.com was conceived and created by developers from pYzam.com, one of the world's largest providers of specialized content for Social Networks.
###