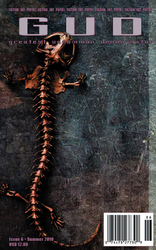 Jade Blackwater, Brainripples: "Everything in GUD 5 is vivid, brilliant, and inquisitive...you're going to want to suck the marrow out of this journal until you're left with the satisfying skeleton."
Laconia, NH (PRWEB) September 27, 2010
Six years down, our mission stands firm: to provide a venue for thought-provoking, challenging material that pays out for the effort put in. GUD publishes genre fiction for the lit-buffs, exciting literature for the skiffy fans, and everything in-between. And in the realm of genre, GUD spreads its pages wide, covering fantasy, horror, science fiction, humor, mystery, romance, fabulism, and slipstream of all sorts, bending and blending the above. GUD is for the lover of language who wants a story to support it.
The domain (gudmagazine.com) was bought in September 2004, the website and framework built up over the next year and a half based on experiences as readers, writers, and editors. GUD opened to submissions in July 2006, received almost 2000, and put its first issue out in January 2007. Since then we've sifted through over 16,000 submissions, and put out seven issues of award-winning literary and genre fiction, poetry, art, comics, and more.
GUD puts out two issues a year in both print and electronic formats. At two hundred pages each and presented with the high production quality we feel such literature and art deserve, it's been said to be more like an anthology than a lit mag. We've won awards, published both unknowns and up-and-comings, and have become a go-to for writers feeling edged out by the pigeonholes most other markets enforce. And while we pay semi-pro rates up front, we're keen to keep every issue "in print", helping our contributors earn out those advances, and more.
Issue 6 bounds onto the scene with a bright and blooming selection of prose, poetry, and art. Whether it's old tales retold with a new face, like an irreverent version of Sleeping Beauty, or a tale of renewal on the Wheel of Life, Issue 6 has a fresh feel to it. We're stepping through doors into unexpected places, washing our brains clean of memories, and getting a shiny coat of paint.
Get a slice of our latest issue for free--open a free account at http://www.gudmagazine.com/ and see what people are talking about.
Or check out our reviews at http://www.gudmagazine.com/vault/reviews.php
We're also on twitter as @gudmagazine, where our editors will frequently post tips and trauma from the slush pile (#gudslush)
###