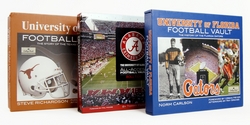 We're excited to offer our customers these unique books just in time for the holiday shopping season
(Vocus) December 12, 2009
In 1969 newly-appointed University of Michigan football coach Bo Schembechler posted a message in Yost Fieldhouse to players, "Those who stay will be champions." This and other history-changing moments—and many more—come alive in the pages of Whitman Publishing's Vault book series.
Magazines.com, the Internet's largest magazine subscription retailer, is pleased to announce it has added more than 50 Vault sports, politics and celebrity memorabilia books to its store just in time for holiday shopping.
These coffee table books are one-of-a-kind collector's books: part history book, part scrapbook, the 144-page hardback books include slipcase covers and feature colorful photos, vivid narrative and pullout reproductions of old game programs, tickets and more tucked into sleeves and pockets. Intended as home archives for the most passionate of fans, the books weigh nearly 5 pounds and measure 12.5 x 10.9 x 1.8 inches.
Magazines.com has added more than 40 books from the College Vault series representing the top schools in the SEC, Big Ten, ACC, Big 12, Big East, WAC and Mountain West conferences that include the University of Alabama, the University of Michigan, Boise State, the University of Texas and Georgia Tech.
"These dynamic coffee table books are great gifts for college sports enthusiasts," said Jay Clarke, Magazines.com President and CEO. "We're excited to offer our customers these unique books just in time for the holiday shopping season."
Each book chronicles the school's football or basketball program through a detailed narrative provided by an author with inside knowledge of the program—including former athletic directors and sports writers--along with vintage photos from extensive campus archives. The pullout replicas of old collectibles include Knute Rockne's play diagrams from Notre Dame, the building permit for Michigan Stadium, and a University of Arkansas 1964 Cotton Bowl poster tucked into sleeves and pockets.
In addition to the titles from the College Vault series Magazines.com has added collectors' Vault editions including Michael Jackson: A Tribute to the King of Pop, Romancing the Vampire, Barack and Michelle Obama, Kentucky Derby and World War II.
About Magazines.com
Magazines.com is the oldest, the largest and the most dependable magazine subscription service on the Internet. We are a privately-held company based in Franklin, Tenn., a suburb of Nashville. Our major investors include Time Inc., publisher of great magazines like People and Sports Illustrated.
With more than 2,000 titles available, Magazines.com offers people a fun, easy way to discover new magazines and helps them track subscriptions. Magazines.com is the leading independent agent selling subscriptions, serving customers online at Magazines.com and by telephone at 800-MAGAZINES (800-624-2946.)
###