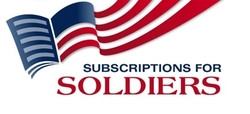 (Vocus) April 16, 2009
Subscriptions for Soldiers, a magazine subscription donation program sponsored by Magazines.com, celebrates its first anniversary this month by thanking the thousands of individual and corporate donors who participated.
From the kindness of generous donors, thousands of active-deployed service members received more than 10,000 magazine subscriptions at no cost to them. For active duty service members, something as simple as receiving a monthly magazine makes a difference by boosting morale in stressful times throughout the year; magazines are #1 on the list of most-requested items by service members.
Subscriptions for Soldiers will continue to serve active-deployed service members this year and beyond. Currently Subscriptions for Soldiers still has 2,889 service member magazine subscription requests waiting to be filled. Every donation counts in making a difference in supporting our troops.
For service members deployed overseas, receiving a favorite magazine is like getting a little piece of home every month. For more information, visit http://www.subs4soldiers.com.
About Subscriptions for Soldiers
Subscriptions for Soldiers provides citizens and corporate sponsors the opportunity to show support to troops deployed overseas by sponsoring a magazine subscription. Service members sign up for free one-year subscriptions at http://www.subs4servicemembers.com.
Subscriptions for Soldiers then pairs that service member's request with a subscription sponsor. Individuals who want to sponsor a service member's subscription visit http://www.subs4soldiers.com and make a donation of $10 or more to give a free subscription to a service member overseas. Subscriptions for Soldiers connects service members, those they serve and the life we all cherish. For more information on Subscriptions for Soldiers, visit http://www.subs4soldiers.com or call (800) 673-1289.
About Magazines.com
Magazines.com is the oldest, the largest and the most dependable magazine subscription service on the Internet. We are a privately-held company based in Franklin, Tenn., a suburb of Nashville.
With more than 1,900 titles available, Magazines.com offers people a fun, easy way to discover new magazines and helps them track subscriptions. Magazines.com is the leading independent agent selling subscriptions, serving customers online at Magazines.com and by telephone at 800-MAGAZINES (800-624-2946.)
###