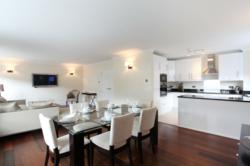 Penwell Design Concepts work with experts in interior design and architecture to renovate and refurbish luxury residences in central London
London, United Kingdom (PRWEB UK) 7 July 2012
Penwell Design Concepts Limited is a London based private company that specialises in up-market interior design and renovation for luxury residences.
Magdi Jameel, the Founder of Penwell Design Concepts, is proud to welcome Leon Gray to his team.
Regarding the new appointment Magdi Jameel stated, "I am excited by the skills that Leon Gray will bring to the team and I greatly look forward to working with him on our upcoming projects. Not only does he have exceptional talent as a project manager, which is absolutely essential for the position, but he joins at a time of dynamic growth for the company."
Leon Gray has qualifications in civil engineering and land surveying. He is also an Incorporated Engineer and Fellow of the Institute of Highway Engineers. He started his career working for UK local councils in civil engineering roles. From 1974 to 1984 he worked for the Greater London Council, the London Borough of Camden and the London Borough of Brent. In 1984 he moved to JC Decaux UK where he took the position of Technical Manager. After five years he moved to the highly reputable firm: Gray Building Contractors Ltd & GES Property Services Ltd where he was Managing Director. In 2004 he became a highly successful freelance Surveyor and Project Manager.
Leon Gray in 2006 branched out to concentrate on interior projects. He joined the firm Interior Dimensions Contracts Ltd as a Project Manager. After three years he moved to Parkanaur Constructions Ltd and worked on the top end properties such as the Mandarin Oriental Hotel in Knightsbridge. This gave him the valuable skills and experience that makes him so apt for the job at Penwell Design Concepts.
About Penwell Design Concepts
Penwell Design Concepts Ltd started in Mayfair and has since expanded to St James's, Chelsea, Knightsbridge and Belgravia. Penwell Design Concepts provides design and renovation services of the highest quality for the most elite clientele. They highly value their relationship with their clients as well as their employees.
About Magdi Jameel
Magdi Jameel is a Saudi born businessman who has been based in London for the past ten years and has extensive experience working for an exclusive and high-class clientele. He also has an extensive knowledge of the high-end property market in both the UK and Saudi Arabia.