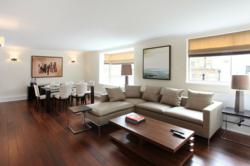 Penwell Design Concepts are experts in the refurbishment and renovation of luxury residences.
London, United Kingdom (PRWEB UK) 18 July 2012
Penwell Design Concepts is a private company based in London. They are experts in the refurbishment and renovation of luxury residences and have extensive experience in up-market interior design.
Magdi Jameel, the Founder of Penwell Design Concepts, is thrilled to welcome Brian Ingham to his team.
When asked about the new appointment, Magdi Jameel responded: "Not only am I excited to welcome such a proficient consultant to the team, but Brian Ingham and I share similar passions and see up-market interior design through the same lenses. It will be an absolute pleasure to work with him."
Brian Ingham has a remarkable background and impressive career. He is a Project Director and has had 19 years of experience on the board in the Commercial and Residential, Civil Engineering and Petrochemical construction fields. Throughout his career Brian Ingham has consistently achieved incredibly high standards of success and his projects have always been delivered on time, on budget and above expectation. He has outstanding personal motivation and determination that makes him an asset to any company.
His professional qualifications include an Award for Quantity Surveying from the Institute of Quantity Surveyors, and a BSc in Built Environment and Building Economics as well as a BSc (Hons.) in Building.
He started his career as a construction manager at John Laing Construction before becoming a Senior Quantity Surveyor at Gardiner & Theobald. From 1979 to 1981 Brian Ingham gained valuable experience on a two year contract as Chief Quantity Surveyor in Saudi Arabia. He stayed in Saudi Arabia after the contract had come to an end and he became Project Manager at Suter and Suter International Consultant before joining ABT Group of Companies. This position was also based in Saudi Arabia but he was involved in projects across the globe. He left in 1986 after holding the position of Vice President of Technical, Engineering and Project Development for two years. From 1988 to 2009 he worked at Crest Nicholson PLC Group as Projects Director. Before accepting the job at Penwell Design Concepts Brian Ingham held the position of Interim Project Director at Clarkson Alliance.
About Penwell Design Concepts
Penwell Design Concepts Ltd established a name for itself in Mayfair. It has expanded into St James's, Chelsea, Knightsbridge and Belgravia and developed a reputation based on its exceptional work and high standard of delivery. Penwell Design Concepts provides luxury design and renovation services for the most elite clientele. They maintain incredibly high standards and take great pride in their relationship with their clients as well as their employees.
About Magdi Jameel
Magdi Jameel has been based in London for the past ten years and has extensive experience working for an exclusive and high-class clientele. He was born in Saudi Arabia and had a successful career there before moving to the UK. He has great knowledge of the high-end property market in both the UK and Saudi Arabia. Brian Ingham will also be assisting Mr. Jameel's Saudi based company Magdi Abdul Latif Jameel Trading Est to build a 3,000 square meter luxury villa in Jeddah, KSA.