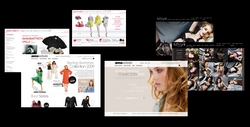 Magento is now Pod1's de facto e-commerce platform for the SME market. We trialled most of the open-source solutions on the market but Magento really stood out from the crowd
London (PRWEB) April 22, 2009
Pod1 launched its latest Magento Ecommerce website for independent fashion designer Anna Scholz last month. Together with the ecommerce utility, the purpose of the site is to create a space to demonstrate Anna Scholz's character and expertise as a designer. A 'magazine' editorial page, with Anna as the editor, will be updated on a seasonal basis and will include fashion favourites of the team along with style hints and tips for customers.
This site follows close on the heels of the recently launched Matthew Williamson website which will also include full ecommerce functionality, via Magento, when phase 2 launches at the end of April 2009. The first Magento designed offering from Pod1 London was for Myla's luxury lingerie store. This site features in the showcase on Magento's own website and serves as an example of how the highly customisable template system can be adapted to any style. The very first Pod1 Magento offering however was for New York Designer Fashion Boutique, Kirna Zabete created by Pod1 NY and launched in August 2008.
Magento is a feature-rich ecommerce platform built on open-source technology that provides online retailers, or e-tailers, with a large level of flexibility and control over the look, content and functionality of their ecommerce store. Magento's intuitive administration interface features powerful marketing, search engine optimisation and catalogue management tools to give online retailers the power to create sites that are tailored to their unique business needs. Designed to be completely scalable, Magento technology offers companies the perfect solution for rapid development of ecommerce sites. Magento is built to PCI DSS standards and therefore provides a secure base for an ecommerce platform which is essential with the new legislation coming in later this year.
Fadi Shuman from Pod1 says "Magento is now Pod1's de facto e-commerce platform for the SME market. We trialled most of the open-source solutions on the market but Magento really stood out from the crowd". "Apart from its rich feature-set and thriving community, it also allows for rapid development and deployment which means we can turn projects around pretty quickly. It's a win-win for everyone".
Being open source means there is an active community of open source participants producing themes, extensions, insight and advice to ensure Magento is at the forefront of ecommerce platforms.
Magento's founders Varien actively develop the code with major releases every 3 months, Magento 1.0 March 2008, Magento 1.1 July 2008, Magento 1.2 December 2008 and Magento 1.3 March 2009. With each release showing significant enhancements from the previous as well as any bugs being resolved in a timely manner.
For contact information please go to http://www.pod1.com
###