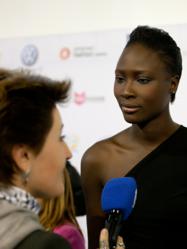 If I had my own magazine I would definitely put it up on the web with the help of MagFashion. Currently, the fashion world is beginning to dig into ecology!
San Bruno, CA (PRWEB) April 03, 2012
Events have been held around the world that coincide with the World Water Day Event. It was first celebrated in 1993 – every year on March 22 the United Nations calls to the world to line up behind one issue – over consumption of water by one group of countries while other nations barely have enough water to sustain life. Today over 700 million people suffer from water shortage – they are citizens of 43 countries. Yet water reserves are getting depleted in high gear.
The West has long witnessed the tendency to conserve water. A US citizen uses up to 200 liters of water daily, while the average European needs 140. However, in any nation the main water consumers are industrial enterprises, including cellulose and paper production factories that take up 15% of all the water in manufacturing. And that is exactly why MagFashion(innovative platform that creates interactive digital magazines) gladly supported the events celebrating the World Water Day.
African-born French supermodel Dji Dieng arrived in Kyiv with a special mission from the UN to turn the attention of the world to the problem of over consumption of scarce water supplies. "The role of newspapers and TV channels is very big: you have to explain to people why we have to consume water. Thank you for coming. Together we will change the world for the better!" - supermodel Dji Dieng said opening the two-day marathon.
Later during a chat with MagFashion Dji thanked the Internet resource for partner support: "If I had my own magazine I would definitely put it up on the web with the help of MagFashion. I work with an immense number of magazines and all of them are interested in having an online life. Currently, the fashion world is beginning to dig into ecology problems and I am doing everything possible to unite the fashion industry to save the environment."
World Water Day can hardly be called a holiday, the situation with drinking water on our planet is posing a serious threat for future generations. However, coherent actions of each and everyone seem to have a chance of changing the situation. MagFashion calls out: save water and paper, read gloss online.
About MagFashion:
Developers of MagFashion created a unique service making it easy publishing and distributing interactive digital magazines. From now on glossy magazines and collection catalogues are available in digital form. Over 100 glossy magazines – periodicals on fashion, beauty, health, cosmetics and clothes catalogues already have their interactive versions on the MagFashion website.
The success of the project became possible due to simultaneous realization of social, commercial and innovative breakthroughs. Therefore, apart from cutting down on costly paper production MagFashion drew attention of publishers to such advantages of online fashion media as, for example, interactivity. While keeping the periodical's traditional PDF format a new unique possibility has been added that makes use of all the different means in the internet – the ability to publish audio and video footage, surveys, tests, applications, comments.
"Each magazine is its own unique virtual world that can be "touched", where you can listen to music, watch videos, chat with other readers accompanied by flash and 3D effects of all sorts", - MagFashion's CEO, Ruben Vardanyan, speaks on the operating principles of MagFashion.
Thanks to MagFashion's innovative platform the commercial attractiveness of digital media has increased through means of direct sales of the advertised goods. Due to this fact the website is constantly getting updated with new issues. The magazines can be posted on any website, besides, at the same time developers are working on new individual iPad/Android applications for each media source. All of this allows a significant increase in a magazine's online audience.
For Internet users the service works absolutely free of charge. By the end of 2012 the creators of MagFashion are planning on increasing the number of interactive magazines on their website by twenty times. You should join too.