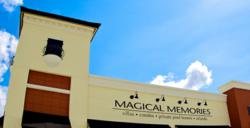 The newly designed website offers families the ability to effortlessly plan their Orlando vacation and easily share this information with family and friends through popular social networks
Kissimmee, FL (PRWEB) April 24, 2013
Magical Memories, a leading Orlando vacation rental management firm located near Walt Disney World Resort, launches their completely redesigned website today. "The newly designed website offers families the ability to effortlessly plan their Orlando vacation and easily share this information with family and friends through popular social networks," says Dan Kline, COO for Magical Memories. "It's a one-stop-shop for selecting a preferred vacation rental in Orlando."
Magical Memories' new website has a layout and design elements not seen on many other websites in the industry. Bright colors and a brilliant display of information greet visitors to their website. It's easy to navigate; allowing users to save search results, compare properties, and share with their family and friends who may be traveling with them. The website offers a detailed search engine that is easy to use and allows user to easily find and book their vacation lodging.
"Our team has worked relentlessly to bring this innovative website to life." explains Jake Foutz, Director of Marketing for Magical Memories "We're excited to see our hard work pay off."
Vacation rentals feature full kitchens, separate bedrooms, and large living areas. All single-family homes provide private swimming pools and screened patios. Magical Memories offers vacation rental villas, townhomes, and houses that are located close to Walt Disney World and other popular Orlando attractions. Each property is privately owned and offers guests privacy, spacious accommodations, and amenities not found in traditional hotel or resort rooms. Experience Magical Memories' new website at http://www.magicalmemories.com/nwb.
About Magical Memories
Founded in 1995, Magical Memories is a full service vacation rental company that manages over 250 vacation rental properties in the Orlando, Florida area. They feature the perfect Central Florida accommodations for every family and budget size. Their villas, townhomes, and vacation homes are all located within an easy 10 mile drive from Walt Disney World. Nearby beaches provide for an excellent day trip, less than 50 minutes away.
Magical Memories sets a higher standard with their personalized approach and experienced staff. They strive to make vacation planning easier and more enjoyable for the traveler. As a member of the Vacation Rental Managers Association (VRMA), Vacation Rental Home Connection with Walt Disney World, and the Central Florida Hotel and Lodging Association (CFHLA), they are a trusted source for accommodations in the Orlando area.