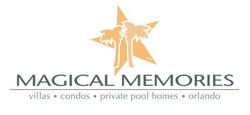 "The new site puts consumers, and us, in a great position, surpassing the standard of online booking. It is much easier for a traveler to choose accommodations on our site than others like Expedia or Travelocity,"
Orlando, FL (PRWEB) December 1, 2009 - December 1, 2009 -
Magical Memories, a leading professional vacation rental firm, located just a few miles from the Disney World Resort in Central, Florida is pleased to announce that choosing Orlando vacation rentals in the nation's top vacation destination has just become much easier through their newly launched website.
The company's newly designed website makes selection of the perfect vacation home rental as easy as a few clicks of the mouse. This customized site is rich with hundreds of photos, interactive maps and descriptive content, allowing guests to find accommodations to perfectly suit their needs and budget. An advanced search tool even allows travelers to choose a specific home giving clear and concise information simplifies the entire process of making reservations online.
"The new site puts consumers, and us, in a great position, surpassing the standard of online booking. It is much easier for a traveler to choose accommodations on our site than others like Expedia or Travelocity," explains Jeff Chase, Director of Sales and Marketing for Magical Memories. "For instance, the ability to quickly and economically book by property type is available, while those looking for more specific options will discover a complete photo portfolio along with descriptive content for each individual rental. Our real time inventory system only shows what's available and the consumer has the option of booking immediately."
Additional advantages of the new site, http://www.MagicalMemories.com, include: a specials page offering fantastic promotions along with an option to 'Join Our eMailer' that sends automatic notification about new promotional campaigns. Another great new option is Select Choice, a collection of upscale properties for guests who desire the highest standard of luxury and amenities.
Abundant options are offered by Magical Memories, comparable to the finest resorts. In-home spa services, personal in-home chefs, medical concierge and babysitting services are available. Guests may also buy attraction tickets online through a partnership with The Official Ticket Center.
"We are very excited with the way the site turned out," states Chase. "I really believe travelers will see the difference and enjoy the experience we've created for them.
About Magical Memories:
Magical Memories Management, Inc. manages more than $50 million dollars in second home real estate in the Central Florida attractions district. With offices located only a few miles from the gates of Disney World Resort, Magical Memories offers more than 350 vacation rentals, including two to four bedroom resort condos, as well as three to seven bedroom luxury pool homes. We pride ourselves on delivering a quality of service and standard of product that far surpasses our guests' expectations. We now make it simpler for you to create magical memories that will last a lifetime. For more information, please visit http://www.MagicalMemories.com or call (877) 265-9354.
###