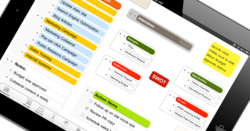 Many users think of us as the OneNote for the iPad
Boston, Massachusetts (PRWEB) December 22, 2011
MagicalPad, LLC unveiled a revamped version of its MagicalPad iPad Notes & Outliner app on Wednesday, bringing new features aimed at making the app easier-to-use and more appealing to users.
The new version of MagicalPad provides new tools for sharing and emailing notes, action items, outlines and ideas to coworkers and other users, and makes it easier for users to manage their ideas and notes through the completely revamped gestures engine.
"There's a lot of thirst for utilizing the touch capabilities of the iPad screen on productivity apps," said MagicalPad Product Manager Bouchra Benchekroun. Unlike other apps that use native IOS menus and interactions, MagicalPad utilizes a gaming paradigm in designing a touch-centric app that enables users to accomplish all tasks in a free-form layout as if they are playing a strategy game.
"Users absolutely love this approach and often quote MagicalPad as out-of-the-box creativity in productivity" she told AppLink during a demonstration of the new product last week.
MagicalPad -- which currently counts thousands of users and shares thousands of meeting notes and brainstorming ideas -- allows users to easily capture and organize notes, outline ideas and share them in the cloud or via email with everyone.
MagicalPad does not shy away from sharing their vision about the future and how they see themselves. "Many users think of us as the OneNote for the iPad," said their product manager. This is no surprise since the OneNote iPad app fell short on delivering freeform layout in their iPad release last week, which is front and center in MagicalPad.
About MagicalPad
MagicalPad is a Massachusetts based start-up provider of innovative mobile, desktop and web applications for visually organizing and managing information and ideas to drive structured thinking, spark creativity, and enhance business innovation and team effectiveness.
###