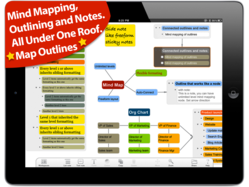 Visulize hierarchies and relationships at the same time. Amazing!
Boston Massachusetts (PRWEB) March 15, 2012
MagicalPad released this week a break-through version that creates a new kind of productivity app bridging the gap between mind-mapping and outlining iPad app. The new version of MagicalPad provides new tools for mind-mapping enabling users to create deep mind maps with connected outlines and nodes in a free-form mind mapping environment.
Users now have one app for brainstorming, outlining, projects, meetings and creative writing. "It is amazing that I can connect one outline to another creating hierarchies and relationships at the same time" said Todd, M. project manager and user of MagicalPad.
Built exclusively for the business user, MagicalPad is truly a business tool helping users structure their thoughts, organize ideas, and visually present information and options to support decision making and prioritize actions.
About MagicalPad
MagicalPad is a Massachusetts based start-up provider of innovative mobile, desktop and web applications for visually organizing and managing information and ideas to drive structured thinking, spark creativity, and enhance business innovation and team effectiveness.