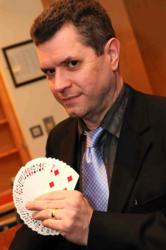 "Mike's magic and mind-reading skills completely amazed all of the staff"
London, England (PRWEB UK) 9 February 2012
There are many ways to pass the time while waiting for a flight at London Heathrow airport. Read a newspaper, get some food and drink, anxiously watch the departure boards or just sit there bored for a few hours. However the management at The Crown Rivers bar and restaurant at Heathrow Terminal 5 have decided to offer an alternative by hiring a professional magician to entertain their customers. Their choice is Mike Stoner who will be performing on Friday 10th February 2012.
Manager Graham Farr said, "We were looking to hire someone who would bring a touch of magic to The Crown Rivers. Mike has performed for many large companies and celebrities, so we know that he'll do a great job. We also had a sneak preview of his magic and mind-reading skills a couple of weeks ago during which he completely amazed all of the staff."
Heathrow Terminal 5 is used exclusively as the global hub of British Airways and is able to handle up to 35 million passengers a year. That means a lot of customers looking to eat, drink and relax before their flight and the introduction of some magic is an innovative way to keep them entertained. The Crown Rivers is located airside at Terminal 5 and is a busy restaurant serving thousands of people every week. It is also a popular haunt for celebrities and has recently been visited by the Black Eyed Peas, Hugh Grant, Ronan Keating, Ricky Hatton, John Barnes, Kevin Bridges, Emmanuel Adebayor and many others.
Mike Stoner often performs as a wedding magician, but thinks that the setting of an airport bar/restaurant will be ideal for his mixture of traditional and modern psychological magic. "It's all about fun and laughter," said Mike. "With plenty of amazement thrown in. Waiting for your flight can be boring and stressful so this will take your mind off things for a while, especially if we have more snow delays."
Magic is enjoying a renaissance at the moment due to a number of magic-related TV shows and the high profile of performers such as psychological illusionist Derren Brown and street magician Dynamo. "I like to mix together these different styles of magic," Mike commented. "So there will be some fast-moving routines using cards, coins and watches alongside more thoughtful and intriguing demonstrations of mind-reading and pseudo-hypnotic influence – something for everyone!"
Mike will be at The Crown Rivers, Terminal 5, Heathrow between 3pm and 6pm on Friday 10th February.
To learn more about Mike visit http://www.magician-4-hire.co.uk
###