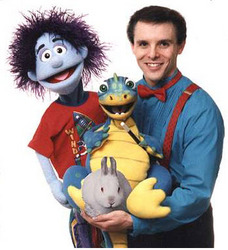 I'm humbled and flattered to be acknowledged as a local favorite by Nickelodeon and grateful to every mom and dad who voted for me as Best Kids Party Entertainer
Attleboro, MA (PRWEB) October 15, 2009
Steve Zany of Attleboro, Mass., one of New England's only professional magicians and ventriloquists, has been named Best Kids Party Entertainer locally in Nickelodeon's Parents' Picks Awards. Zany is the first children's entertainer in the region to ever receive the award.
For more than two decades, Zany has been performing his magic show for all ages at kids parties, family functions and children's events throughout Rhode Island and Massachusetts. According to Nickelodeon's Web site, Zany is described as "the best magician" to entertain "super-sugar-high kids."
A native of West Warwick, R.I., Zany was the top pick by area parents based on the number of online votes received at Nickelodeon's 'Parents Connect' Web site. Parents also could vote for their favorite family-friendly businesses in various categories.
Zany, a parent of two children and a self-professed clown who is having trouble growing up, became a magician in RI at age six after being inspired by library books on the subjects. He turned his hobby into a business at age 14 with his parents as his chauffeurs. While in college, he paid for his higher education by performing magic and ventriloquism at kids birthday parties, youth group functions and festivals.
He has performed thousands of shows during his career for kids gatherings and family events as small as a half-dozen to as large as 20,000. His credentials include performing at every imaginable type of function--from a kids birthday party to a cruise ship; from corporate events and school festivals to the White House in Washington, D.C.
Zany is perhaps best known for sharing the spotlight with children during his interactive comedy magic show and empowering them to become "stars" in their own right. However, audiences often say Zany is outshined by his cast of ventriloquist characters which include a talking dinosaur named Darryl, the world's only Stupidosaurus, and a purple-haired, blue-skinned Muppet-like character named Noodle who would rather be surfing.
Zany also has a reputation for putting words in people's mouths when he brings a self-drawn cartoon of an audience member to life and turns an audience volunteer into a life-size ventriloquist doll--all by throwing his voice.
"I'm humbled and flattered to be acknowledged as a local favorite by Nickelodeon and grateful to every mom and dad who voted for me as Best Kids Party Entertainer," Zany said. "Of course, earning such a recognition means I must now strive even more to exceed kids' and parents' expectations when it comes to family entertainment. That's sure to make my magic shows even zanier."
For further information about Steve Zany, visit zanymagic.com.
###