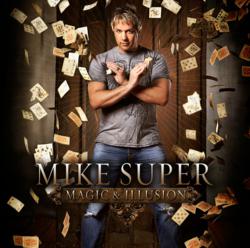 As the winner of NBC's hit TV show 'Phenomenon', Mike is the only magician in history to win a LIVE magic competition on primetime US network television and voted America's Favorite Mystifier!
Dallas, TX (PRWEB) August 16, 2012
The seventh annual charity event, Heart Day 2012 - The Magic of Hope, will take place from 5:00 p.m. to 9:00 p.m., on Saturday, September 1, 2012, at the famous Southfork Ranch in Parker, Texas. The event features a performance by Illusionist Mike Super benefiting the Chloe Duyck Memorial Fund for congenital heart disease research and awareness.
As the winner of NBC's hit TV show 'Phenomenon', Mike is the only magician in history to win a LIVE magic competition on primetime US network television and voted America's Favorite Mystifier! Through spectacular illusions and his own inimitable down-to-earth style and personality, Mike Super has pioneered a new form of magic that transcends the "trick". Mike has emerged as magic's newest celebrity, with a legion of fans numbering in the millions.
Mike's ever-growing popularity has garnered him many prestigious awards and honors. Most recently he was the recipient of the Merlin Award being named both the 2012 & 2011 Entertainer of the Year. The Merlin Award is considered to be the Oscars of Magic, Mike shares this award with the likes of David Copperfield, Penn & Teller, Criss Angel & Siegfried and Roy. Mike's other honors include being named Performing Arts – Entertainer of the Year, Best Performing Artist of the Year, Best Male Performer and Best Novelty Live Performer. His many television appearances include being named the winner of NBC's television show Phenomenon, numerous appearances on the French television show LA SOIREE DE L'ETRANGE, one of the presenters and artists to appear at the 2010 Pollstar awards held at the prestigious Nokia Theater and recently appearing on The Ellen DeGeneres Show. Despite all this, Mike humbly insists, it is the loyalty of his fan base that has been the most rewarding. His fans call themselves "The Superfreaks" and they number in the millions.
The secret to Mike's success is his natural ability to entertain & captivate people. Mike has brought the art of magic back to the people and connects personally with his audience on a level they can relate to. Whether it's through television, stage or simply one-on-one, Mike Super's personality and humor reaches out and enchants the public. His appeal to both young and old has made him one of the most sought after mystifiers in the world!
Join the journey of emotions from laughter, intrigue, danger, fear, wonder, anticipation, tears and sentimentality that only Mike Super delivers. A silent auction featuring items such as a dinner catered by Chef Eric Shelton, 4 tickets to Disneyland, a baseball signed by Josh Hamilton, four tickets to the Texas Rangers, a beach vacation, jewelry, home decor, designer handbags, electronics and more will take place. All event tickets include bounce houses, face painting, rock climbing, eurobungee, balloon artists, games and more!
About The Chloe Duyck Memorial Fund:
According to the American Heart Association, one million Americans have a congenital heart defect. Recent research reports one out of every 85 babies are born with heart defects each year in the U.S. And, nearly twice as many children die from congenital heart disease in the U.S. each year as die from all forms of childhood cancers combined. Michelle Duyck says, "We had no idea that heart defects were the most common and most fatal of all birth defects until we lost Chloe during open heart surgery. That was our eye-opener and called us to action. We look forward to a day when more children survive these serious heart defects and that's why we continue to work towards raising hope for these tiny hearts."
The Chloe Duyck Memorial Fund was established in memory of Chloe by her parents Michelle and Joel Duyck in 2005. Chloe was born on August 30, 2004, and lost her short battle with a congenital heart defect known as Hypoplastic Left Heart Syndrome (HLHS), on September 3, 2004. Chloe endured two open-heart surgeries as well as several other procedures to try to save her life, but to no avail. Shortly after her passing, the family embarked on a mission to support research initiatives in the area of congenital heart defects. The fund is part of the Cardiopulmonary Research Science and Technology Institute (CRSTI), 501(c)3 not for profit organization. 100% of the event proceeds go to fund congenital heart defect research and awareness initiatives. For more information on these efforts, please visit http://www.hope4tinyhearts.com.
For more information and tickets:
http://www.magicofhope.com Tickets are $18 for adults and $12 for children (ages 2-11). A limited number of VIP tickets that include a tour of Southfork Ranch and a private Meet and Greet with Mike Super are also available. All tickets include admission to the event and silent auction, face-painting, balloon artists, bounce houses, rock climbing and other family-friendly entertainment. Event sponsors include: Dr. Chad McDuffie of Ear, Nose and Throat Associates of Texas, SolTek Spine LLC, Excel Anesthesia, Dr. Randy Robbins, North Dallas Bank and Trust Co., FlexTech, Alphatec Spine, Pediatric Cardiac Intensivists of North Texas, DMI Technologies, Watter's Creek Dental Associates, Frisco Dentistry for Kids, BrightStar Care of South West Fort Worth/Burleson, Silver Star Plastering, Inc., Que Sera Sera Beach House - Delaney Keagan Anderson, LLC and Mission Mickey.