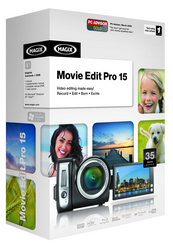 MAGIX Movie Edit Pro 15 proves that great looking movies do not require professional skills or expensive software. With our affordable video editing software, anyone can express their creativity and make their special memories and recordings look their best
Toronto, Ontario (Vocus) March 13, 2009
MAGIX, a leader in multimedia software, announced the launch of Movie Edit Pro 15 (Plus), the latest version of its multi-award winning video editing software. Ideal for beginners and enthusiasts alike, Movie Edit Pro 15 makes it even easier to create DVD-or Web-ready, professional quality videos.
MAGIX is offering the download version of Movie Edit Pro 15 for a special introductory price of 79.99 – Download this Video Editing Software Now!
Movie Edit Pro 15 transforms a PC into a first-class film studio, combining effortless video capture, highly sophisticated video editing tools, spectacular 3D effects, a large selection of titles and fades, and advanced Dolby 5.1 surround dubbing – all packaged in an incredibly simple and friendly user interface.
"MAGIX Movie Edit Pro 15 proves that great looking movies do not require professional skills or expensive software. With our affordable video editing software, anyone can express their creativity and make their special memories and recordings look their best," said Sven Kardelke Video Product Manager at MAGIX.
Two versions, Movie Edit Pro 15 Classic and Movie Edit Pro 15 Plus, are available to meet a range of video editing needs. Previous versions of Movie Edit Pro Classic and Pro have won 75 awards, and this latest release adds key enhancements to the highly acclaimed software.
Additional new features in Movie Edit Pro 15 Plus:
· Multi-cam editing –users can edit two camera channels synchronously and live
· Optimized import and editing of AVCHD camcorder recordings
· Impressive title effects with Xara 3D presets
· New DVD menu templates for various occasions
· Seamless integration with ProDAD Adorage video effects
· Greatly improved color correction with a new interface
· Improved batch processing to easily convert the contents of entire folders
New features in Movie Edit Pro 15 Classic:
· Full HD support – users can capture, edit and burn HD videos
· More intuitive user interface and flexible workspace
· Simplified DVD importing – users can check out scenes and chapters in the preview window and simply click to import them
· Ability to burn videos with animated menu templates onto high-resolution Blu-ray discs
· Nintendo Wii preset – users can easily export movies in the correct format for Nintendo Wii
· YouTube upload – users can instantly publish movies and slide shows to YouTube
###