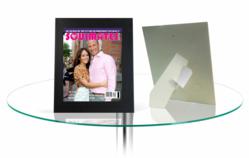 With the poor economy just starting to mend and with gas prices on the rise, it's nice to be able to give a unique, affordable gift without ever leaving home.
New York, NY (PRWEB) March 27, 2012
Easy and fun, MagMyPic.com is a popular website that turns personal photos into full-fledged magazine covers. The website contains a process that is so easy even novice users can put their picture on the cover of a pseudo magazine. Now, in response to clamors for a version that can be given as low-cost gifts, MagMyPic's newest feature allows the user to do just that.
MagMyPic.com first launched in October of 2007 as a free tool to make fake magazine covers online. The appetite for such covers has been overwhelming ever since, the total count having just surpassed the 19 million mark. Unchanged since its original design, the creation process is simple. Almost everything is automated for the user. Once the user selects a photo, the site automatically uploads, crops, positions and resizes everything behind the scenes. The user then simply selects a cover to use from a continuously growing family of magazine covers that professional graphic artists have designed. An instant preview then shows just how the final faux magazine cover will look.
The feature for purchasing framed magazine cover s launched recently on March 1, 2012. What is particularly noteworthy about the framed magazine cover is that MagMyPic prints a cover and cuts a frame in a distinctive way that preserves the dimensions of a classic magazine cover without cutting off either the tops of prints or their sides. For example, a framed print of the cover "SOULMATES" shows all of both S's. Even with the unique photo processing and the distinctive easel frame, it has been possible to keep the cost below $3.00, including First Class Postage.
Peter Rosenbaum, the General Manager of MagMyPic.com, thinks that the timing is especially good for inexpensive framed prints. "With the poorest economy in my lifetime barely starting to mend, where in virtually every family there is a wage earner out of work and with gas prices on the rise, it's nice to be able to give a unique, affordable gift without ever leaving home."
Rosenbaum gives many examples of how framed prints from MagMyPic.com can be used as novelty gifts. "A husband can take an old wedding picture and make a 'Bride' magazine that will surprise his wife on an anniversary. Mom can take a photo from a father-son fishing trip and place it on an 'Outdoors' cover or the family dog's picture can be placed on 'Top Dog.' MagMyPic.com's framed magazine covers are so inexpensive they will not break the bank."
Over the years, many website developers have tried to make systems like MagMyPic.com. "But," says Marco Lisci, MagMyPic.com's engineer, "they always over-complicate them by requiring too many steps to produce the finished result. Our site is fun, but above all, it is simple."
For additional information on personal magazine printing (or for a sample, copy or demo), contact Peter Rosenbaum or visit MagMyPic.com.
About MagMyPic.com
MagMyPic.com, a unit of Pic Play Corp., is a free website dedicated to helping people add creativity to personal photos. MagMyPic.com was conceived and created by developers specializing in creation of content for Social Networks.