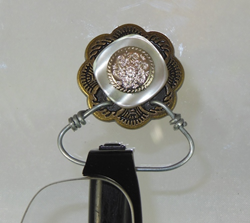 So many ways to wear Italian Magnetic Eyeglass Holders and ladies are loving all of them!
San Francisco, CA (PRWEB) July 03, 2014
Nifty-Nifty.com, the nation's most imaginative minds behind, 'As Seen on TV', hands-free, fashion accessories, is presenting consumers with a brand new way to utilize their already stunning Italian Best Magnetic Eyeglass Holders. By hanging one's favorite fashion charms from the holder's provided hoop, the possibilities become endless.
"We at Nifty-Nifty.com are always dreaming up new products as well as new ways to use existing products. Our latest, greatest, brainstorming session has resulted in unlimited ways to beautify and personalize one's Italian Best Magnetic Eyeglass Holders. By simply adding a favorite fashion charm, or multiple charms, consumers can create a look all their own. And the next day, a whole new look, and so on," explains Nifty-Nifty Co-Founder Wendy Miller.
Have a look a Nifty-Nifty.com's Italian Best Magnetic Eyeglass Holders, here:
http://www.nifty-nifty.com/italian-best-magnetic-eyeglass-holders/
Italian Best Magnetic Eyeglass Holders, which are available in a variety of stellar designs, provide a fabric-friendly, convenient way to carry one's eyeglasses, sunglasses, readers, or even, fashion charms. By placing the super strong magnetic portion on the inside of one's shirt, and the lovely decorative portion on the outside, consumers are provided with all day staying power, peace of mind, and a pretty amazing conversation piece as well.
About Nifty-Nifty.com: 
Nifty-Nifty.com caters to a diverse clientele from all over the world. As the world's leading online retailer of innovative, versatile products, Nifty-Nifty.com specializes in nifty products such as Biker Purses, Phubby, Specs-In-A-Sec magnetic eyeglass holders, Cell-Fie HipBand Cellphone Holder and Cross Body Cell Phone Purses, among others. All products are offered at highly competitive prices with zero charge shipping in the USA and Canada.
http://www.Nifty-Nifty.com
Tel. 858-248-2302