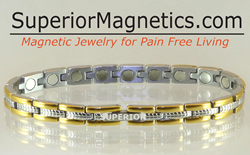 We offer a brief demonstration using our magnetic bracelets often relieving pain in seconds
San Mateo, CA (PRWEB) June 13, 2013
Pain Free Living web: SuperiorMagnetics.com, a leader in innovative pain relief products is excited to have magnetic bracelets for arthritis pain relief at North Beach Festival. These magnetic bracelets for pain use the strongest ion neodymium rare earth magnets. Customers often report pain relief in seconds with the magnetic bracelets during a brief demonstration at shows in the Pain Free Living booth.
"We develop and manufacture the strongest line of magnetic bracelets" explained Shu Arvilla of SuperiorMagnetics.com, "We offer a brief demonstration using our magnetic bracelets often relieving pain in seconds. For those unable to attend the North Beach Festival this weekend and experience the demonstration, our magnetic bracelets are available at SuperiorMagnetics.com."
For more information go to:
http://www.superiormagnetics.com/magnetic-bracelets/
What is a magnetic bracelet and what are the magnetic bracelet benefits?
A magnetic bracelet is a therapeutic piece of jewelry, worn for the benefits the magnetic field can offer. According to William Philpott M.D. in his book, Magnet Therapy: An Alternative Medicine Definitive Guide, the North Pole magnetic field has the following effect on living metabolic systems: "it provides oxygen to the cells"; "it relieves, stops pain and other symptoms", as pain is usually a symptom of an imbalance in pH and/or inflammation of the area; "it normalizes acid and alkaline balance," sore or stiff muscles, chemical hypersensitivity and many disease states are highly acidic.
About SuperiorMagnetics.com magnetic bracelets for Pain Free Living
Pain Free Living has provided magnetic bracelets for pain relief for 12 years. They relieve pain in seconds at street fairs and festivals throughout California, Oregon and Utah. Now you can buy their innovative magnetic bracelets online at SuperiorMagnetics.com. These magnetic bracelets use the strongest rare earth magnets providing the best magnetic bracelet benefits for arthritis.
Contact Superior Magnetics for Pain Free Living magnetic bracelets
Web: http://www.superiormagnetics.com
Tel: +1 909 336-7514