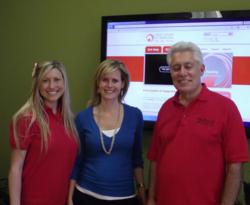 Our dream was to make our website even more client friendly so that everyone needing help can reach us quickly and easily. Magnetic made that dream a reality."
Tampa, Fla (Vocus/PRWEB) February 09, 2011
Magnetic, a full-service web design and development company based in Tampa, Florida, announced the launch of a new website for the Crisis Center of Tampa Bay. The new website is the result of a partnership between Magnetic and the Crisis Center where Magnetic donated a portion of the website development costs.
The site, http://www.crisiscenter.com, focuses on providing visitors information on how to get help, give help, and the many services offered by the Crisis Center.
"Our dream was to make our website even more client friendly so that everyone needing help can reach us quickly and easily," states David Braughton, President and CEO of Crisis Center. "Magnetic made that dream a reality."
In celebration of the site launch and to thank Crisis Center supporters, Magnetic hosted a barbeque on the patio at their corporate office on Friday, January 28, from 3:30-6:30pm, with food provided by Land and Sea Market. Attendees were able to view the premiere of two new videos for the Crisis Center, "Corporate Partners in Action" and "Cup of Compassion" by Ren Scott Productions.
"We are pleased to be partnered with such a great organization that provides so many needed services in the Tampa Bay area," said Jennifer Bakunas, CEO of Magnetic. "We have been working with the Crisis Center for quite some time and some of our staff volunteer at their organization as well. It was very exciting to host this event, launch this new website, and support the Crisis Center in the process."
About Crisis Center of Tampa Bay
The Crisis Center of Tampa Bay brings help, hope and healing to people facing serious life challenges or trauma resulting from sexual assault or abuse, domestic violence, financial distress, substance abuse, medical emergency, suicidal thoughts, emotional or situational problems. Services include free crisis counseling, suicide prevention and support, educational programs, specialized trauma counseling and therapy, case management and financial counseling, and TransCare Medical Transportation Services available 24 hours a day. For more information on Crisis Center, please visit http://www.crisiscenter.com.
About Magnetic
Based in Tampa, Fla. and founded in 1997, Magnetic is a full-service web design and development firm that helps businesses reach their full web potential through strategic consulting, custom web design and development, e-commerce solutions, database integration, content management, systems integration, internet marketing and hosting. Named the 2007 Small Business of the Year by the Greater Tampa Chamber of Commerce, Magnetic offers both business and technical expertise to help medium- and large-size businesses achieve greater profitability and sales through the Internet. For more information on Magnetic, please visit http://www.magnetic.com.
# # #