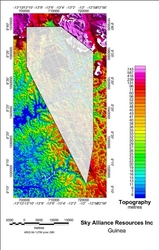 Hong Kong (PRWEB) April 30, 2009
Sky Alliance Resources Inc. (SARI) signed with NOVATEM Inc. of Canada (http://www.novatem.com ) a contract for a very high resolution helicopter borne magnetic survey over the Kissi Kissi series of Forécariah in Republic of Guinea.
The survey will start as soon as the rainy season in Guinea is over, expected to be early November 2009.
The flight specifications are listed in the following table:

Line spacing - 100 m
Tie-line spacing - 2 000 m
Line direction - N 70
Tie-line direction - N 160
Mean sensors terrain clearance - 10 m
Mean helicopter terrain clearance - 10 m
The ultimate objective of this very high resolution helicopter borne magnetic survey over SARI properties of Forécariah in Guinea is to identify precisely the iron formation and any kimberlitic dykes. NOVATEM Inc. will fly this survey at low speed and very low clearance above to the ground ('rase motte' survey). High frequency and low amplitude anomalies as those produced by kimberlites require both tightdraped and low height surveys.
The 'Colibri' Geophysical System developed by NOVATEM Inc. uses a very high resolution laser to help the pilot maintain the magnetometer at a constant low elevation above the ground throughout the survey. NOVATEM Inc. has flown several similar surveys which are now 'cases history' in Canada (Cf the 'Lac Gayot' survey for Mines Virginia Inc. or the 'Attikamagen Project' flown for Champion Minerals).
The estimated total line kilometres using the aforementioned parameters are 7778 km. SARI may decide that selected anomalies will be added to infill the previous profiles, with 50m spacing line.
SARI estimate total cost of the survey to be in excess of half a million United States Dollars.
For any queries relating to this release please contact the following:
SKY ALLIANCE RESOURCES INC. (SARI)
BP 1387,
Coleah Limbata, Corniche Sud
Conakry, Republic of Guinea,
Contact: Joe Bangoura
Tel.: + 224 30 47 74 23
Fax: + 224 30 47 72 12
NOVATEM Inc.
1087 Chemin de la Montagne
Mont-Saint-Hilaire, Québec
Canada J3G 4S6
Contact: Pascal Mouge
Tel : +1 (450) 464 1655
###