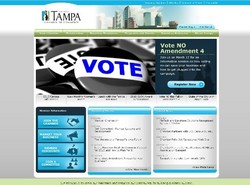 Magnetic helped us accomplish our goal of providing existing and potential members with a more accurate snapshot of priority Chamber events, programs and policy issues
Tampa, Fla. (Vocus) March 25, 2010
The Greater Tampa Chamber of Commerce recently unveiled its new website redesign. Magnetic, a web design and development firm based in Tampa, FL, was commissioned by the Chamber to redesign its website with the goal of making it easier for users to access Chamber information, as well as recent news around Tampa Bay.
The website clearly displays the Chamber's events, programs, and policy issues. The new design is modern and easy to navigate, while catering to users and members who want quick access to the Tampa Chamber's most popular features, such as its Business Directory and Member Discounts.
"Magnetic helped us accomplish our goal of providing existing and potential members with a more accurate snapshot of priority Chamber events, programs and policy issues," said Bob Rohrlack, President and CEO of the Greater Tampa Chamber of Commerce. "Our new site is already receiving rave review from members and visitors alike."
Magnetic improved usability by completely restructuring the site, implementing eye catching design and proven interactive features geared to help users easily navigate the site. One of these designs is a retractable search tab, which streamlines searches and helps users find what they are looking for. The newly-added Meta navigation at the top of the page also makes it easier for users to find the information they seek.
"As Chamber members, it was very important for us to make this information easily accessible for the community. We hope that this redesign fosters a new presence for the Greater Tampa Chamber of Commerce and what it is accomplishing for the entire Bay Area," said Jennifer Bakunas, President and CEO of Magnetic.
On the homepage, visitors can view Tampa Chamber news and upcoming events — the rotating story feature places the latest news and events front and center, giving visitors immediate access to opportunities for staying connected to the Tampa Bay community. Integration of social networking elements, like links to Twitter, Facebook and Linked-In at the bottom of the site, also make it feasible for users to seamlessly connect to the community and stay consistently updated on Tampa business interests.
About the Greater Tampa Chamber of Commerce
The Greater Tampa Chamber of Commerce is a not-for-profit business membership organization that helps promote the businesses and business interests of its 1,900 member companies. Celebrating 124 years in Tampa, the Chamber's mission is to serve its members and enhance the community by building business success, acting as the voice of business on important issues and connecting members to the resources they need.
About Magnetic
Based in Tampa, Fla. and founded in 1997, Magnetic is a full-service web design and development firm that helps businesses reach their full web potential through strategic consulting, custom web design and development, e-commerce solutions, database integration, content management, systems integration, internet marketing and hosting. Named the 2007 Small Business of the Year by the Greater Tampa Chamber of Commerce, Magnetic offers both business and technical expertise to help medium- and large-size businesses achieve greater profitability and sales through the Internet. For more information on Magnetic, please visit http://www.magnetic.com.
###