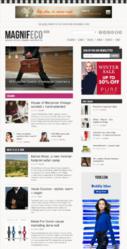 With 1,000 stories in archive and 3 new verticals - we needed something that would appeal to the new segment of conscious consumers.
Boston, MA (PRWEB) December 26, 2012
The new site, at http://www.magnifeco.com, has been designed to adapt to work on mobile phones, tablets and desktop monitors while expanding vertical coverage in response to the growing segment of conscious consumers.
Kate Black, Editor-in-Chief of Magnifeco, says, '"For nearly 4 years, Magnifeco.com has been at the forefront of women's eco-fashion and this redesigned site offers Magnifeco.com users an experience which is cleaner while expanding our content to match the growth of the industry. The revamp is the culmination of all we've learned to date."
A recent survey developed by BBMG, GlobeScan and SustainAbility revealed two-thirds of consumers in six countries say that they feel "a sense of responsibility to purchase products that are good for the environment and society" (65%). [Findings are based on an online survey of 6,224 consumers across Brazil, China, India, Germany, the United Kingdom and the United States conducted in September and October 2012]. Appealing to this segment, Magnifeco.com has expanded content as well.
New content verticals include men's eco-fashion, expanded children's segment and dedicated verticals to travel (eco-travel stories) and living (sustainable objects for the home).
Featuring a new logo, designed by Tokyo firm Studio Lily, the web design was developed by Magnifeco Editor-in-Chief, Kate Black and executed by a Massachusetts-based digital team. It took six months to redevelop.
A featured story box displays the day's top story. While the right-hand column displays the site's most viewed stories. Each vertical has its own category homepage.
"With 1,000 stories in archive and 3 new verticals," states Black "We needed a redesign that would appeal to the growing new segment of conscious consumers."
Expanded content also includes a glossary of terms for those new to eco-fashion (eco-fashion 101) and the 'Magnifeco guide to a conscious wardrobe'.
Phase 2 of the redesign, expected in Q2 2013, will include a curated shop, a paid directory of eco-fashion retailers and video and designer lookbook slideshow galleries.
About Magnifeco.com
Where ethics meets aesthetics, Magnifeco.com is the digital source for eco-fashion and sustainable living.
Dedicated to bringing together ethical designers and conscious consumers from all corners of the globe, Magnifeco.com publishes stories about small artisans and corporate retailers who are focused on producing garments or products in ways that won't harm the earth, yet still offer stunning visual appeal and longevity.