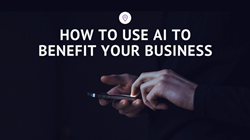 for businesses, AI - and chatbots specifically - can serve as a useful tool for marketing, customer service and more.
Austin, TX (PRWEB) June 07, 2017
When sci-fi movies started depicting AI as a means for computers to take over the world, people began to fear the idea of artificial intelligence. However, most consumers do not realize that they are interacting with AI on a daily basis. In fact, AI is in their home right now, especially if they have the latest smartphone, computer, or tablet. And, for businesses, AI - and chatbots specifically - can serve as a useful tool for marketing, customer service and more.
Magnificent Marketing is excited to announce they've teamed up with AI expert Tim Hayden of Brain+Trust Partners to present a new webinar on how one can use AI -- and chatbots in particular -- to improve their business.
Hayden is an expert on the capabilities of artificial intelligence in this capacity, and he boasts more than 20 years of marketing and consulting expertise. He is also the brains behind NION Interactive, GamePlan, and 44Doors. The country's biggest brands rely on Tim's expertise to help them adopt better communication through technology, including Kraft Foods, Bacardi, ExxonMobil, and Dell.
In this webinar, he dives into the following topics:
-AI in general
-Current consumer use of AI
-Back-and-forth communication
-Chatbots and transparency
-The benefits of AI and chatbot technology
-Hollywood chatbots vs. reality
-The actual possibility of bots stealing jobs
-And more!
The webinar is available for viewing now on Magnificent Marketing's YouTube page and, with an accompanying blog, at Magnificent.com. Click here to watch the webinar now!
About Magnificent Marketing:
Magnificent Marketing is your full-service content marketing agency that will take care of all your marketing needs so that you can concentrate on the core duties needed to manage and grow your business.
Their objective is to generate leads that turn into customers while focusing on expanding the visibility of your company and brand, and positioning you to be "top of mind" for future potential clients.
In order to achieve this, they draw on their experience and belief that a mixture of traditional marketing techniques combined with modern marketing tools will yield the best results. In other words, they blend old and new school marketing to create the best school of thought.
About Tim Hayden:
With more than 20 years of marketing and business leadership experience, Tim Hayden has been a founder of new ventures (NION Interactive, GamePlan, 44Doors) and a catalyst for innovative change within some of the world's largest brands (Dell, Bacardi, AMD, ExxonMobil, Hilton Worldwide, Kraft Foods, Edelman, and others).
Part social anthropologist, part strategic marketing executive, Tim studies communications behavior and how new media and mobility are reshaping all of business. From operations to marketing and customer service, he assembles technology, adoption and communications initiatives that lead to efficiency and profitability.
The past and current investor/advisor to technology startups, Tim actively consults with entrepreneurs and ventures to capitalize on opportunities and shifts across many different industries.
Tim has also proudly served in executive board and leadership positions with the Austin Chamber of Commerce, Meals on Wheels and More, Austin Sports Commission, Austin Technology Council, International Experiential Marketing Association, Ballet Austin and other non-profits.