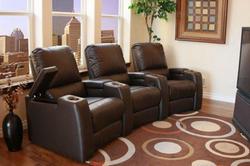 We are thrilled to offer our customers the opportunity to sit in our theater seats at select Best Buy stores and to offer their Reward Zone members the opportunity to earn Reward Zone points while furnishing their living rooms or theater rooms
Golden, CO (PRWEB) February 11, 2010
TheaterSeatStore.com is furnishing various Best Buy Co., Inc. (NYSE: BBY) Magnolia Home Theater stores with "The Magnolia" and "The Headliner" home theater chairs which are sold exclusively by TheaterSeatStore. Customers will have the opportunity to view and sit in these seats in select Best Buy Magnolia Home Theater stores prior to purchasing them directly from http://www.TheaterSeatStore.com/BestBuy. By early March, the chairs will be in 100 Best Buy Magnolia Home Theater stores across the country. Best Buy Magnolia Home Theater stores offer the best brands and models, home-like displays, and specially trained employees.
TheaterSeatStore has also joined the Best Buy Reward Zone loyalty program where Best Buy Reward Zone members earn 3 points for each $1 spent on home theater seating purchased at http://www.theaterseatstore.com/bestbuy. Points in the Reward Zone program are redeemable for Reward Zone Certificates, which can be used on purchases at Best Buy. As a special kick-off event, in addition to the 3 points per $1 spent on their transaction, the TheaterSeatStore is offering 3,000 bonus points to Reward Zone members who purchase 3 or more seats before April 1st. To earn Reward Zone points, members must make their transaction at http://www.TheaterSeatStore.com/BestBuy and provide their Reward Zone number when making their transaction.
"Best Buy is the country's number one store to shop for all home theater electronics and equipment including plasma's, lcd's, Blu-ray disc players, home theater systems and other related products," said Peter Goldstein, Vice President of Sales at TheaterSeatStore. "We are thrilled to offer our customers the opportunity to sit in our theater seats at select Best Buy stores and to offer their Reward Zone members the opportunity to earn Reward Zone points while furnishing their living rooms or theater rooms with the best home theater furniture in the industry. Theater seats have always been very difficult to find in local stores with little selection on display. Customers can now travel a short distance to a Best Buy Magnolia Home Theater store which is showcasing the furniture, sit in the chairs and experience them first hand. In addition to the Magnolia and Headliner theater seats, the TheaterSeatStore has hundreds of models to choose from and can overnight swatch samples of leather or fabrics upon request."
The Magnolia and Headliner home theater seats each have a 44 inch seat back and chaise style footrest to comfortably accommodate customers of all heights. The "Wall Hugger" design allows these seats to be placed within inches from a wall and still fully recline. Both chairs offer excellent lumbar support. Each arm of The Magnolia provides a storage compartment for remote controls or accessories. Each arm of The Headliner is deeply padded for comfort. Both the Magnolia and the Headliner are available with either manual or power recline mechanisms in either straight or curved configurations. The seats are available for quick shipping in black or brown top grain premium leather on all seating surfaces or can be special ordered in a variety of colors of fabrics or leathers.
Customers will have the full range of TheaterSeatStore's resources available to assist in selecting the perfect seats. These resources include the ability to consult with the TheaterSeatStore's knowledgeable sales professionals who can help find the perfect seating solution based on the room size, design, style, and budget. Videos of top selling models can also be viewed directly from the website. Customers also have the ability to get swatch samples of leather or fabric for custom made theater seating models.
About TheaterSeatStore – TheaterSeatStore.com is the market leading retailer of home theater furniture products, motion furniture; massage chairs, and sofa and sectional sets. The company offers a wide range of products and services designed to enhance and decorate a living room space or even a dedicated home theater environment. TheaterSeatStore is a member of the National Home Furnishing Association and Western Home Furnishings Association, and is an A-rated member of the Better Business Bureau.
###