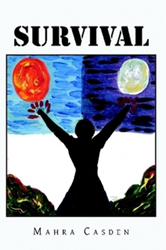 "Her experiences represent a powerful and scathing indictment of the worst in human nature," Casden says, "as viewed and expressed by a single individual."
JERUSALEM (PRWEB) November 13, 2014
Author Mahra Casden uses a memoir format to weave a compelling fictional narrative about one woman's battle to survive human cruelty in her new book, "Survival" (published by Lulu).
"The book is written in first-person-singular prose, relating harrowing and thought-provoking truths," Casden explains. "It illustrates the ills resulting from societal ruthlessness in pursuing political and/or personal power over others, hatred of the 'other,' and satisfying ultimately insatiable greed."
Neither place names nor individual names are used, in order to emphasize the universality of the theme. This mesmerizing literary work takes the form of a diary written by a woman whose personal and trans-personal pain caused by human cruelty has led to her current situation: she is no longer able or willing to speak and, considered insane, has been locked away in a sanatorium.
"Her experiences represent a powerful and scathing indictment of the worst in human nature," Casden says, "as viewed and expressed by a single individual."
An excerpt from "Survival":
"When I look at my face in the mirror, I see a blank mask, as though it has frozen expressionless into a plaster-of-paris mould. Even the wrinkles have disappeared – or perhaps I don't see them. My eyes are dead, too, glassy, glazed over. I stare harder, trying to crack the dead material of the plaster. Nothing happens. This is the face the world sees, all expression having fled into a different realm. No wonder they think I am dead; I live elsewhere."
"Survival"
By Mahra Casden
Softcover | 6 x 9 in | 250 pages | ISBN 9781483417936
E-Book | ISBN 9781483417929
About the Author
Mahra Casden currently resides in Jerusalem.
Lulu empowers people of all ages to explore and express their interests, passions and expertise through books, photography and art. Since introducing self-publishing in 2002, Lulu has empowered creators in more than 225 countries and territories to produce nearly two million publications. Lulu Jr. allows children to become published authors, encouraging creativity, strengthening literacy and building self-esteem. Picture.com offers professional photography of collegiate and professional sports, memorable and historic events, fine art and home décor. For more information, please visit lulu.com.