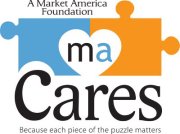 Greensboro, NC (PRWEB) August 03, 2012
ma Cares, a corporate philanthropic initiative of Market America, Inc. and SHOP.COM, announced today it will award Patriot Rovers, a Carolina based non-profit organization that pairs trained dogs with wounded Veterans, a check for $27,300 at the 20th Annual Market America International Convention on Friday, August 10, 2012 at 10:00 A.M. at the Greensboro Coliseum. The presentation will be made by Market America Chief Operating Officer Marc Ashley and Vice President of Operations Brandi Quinn, who will be joined by Patriot Rovers Co-Founder David Cantara and Executive Director Kathy Bull.
Since January 1, 2012, ma Cares, in conjunction with the efforts of the Market America employees has raised the necessary funds to sponsor the rescue, boarding and training of three medical alert and response psychiatric service dogs for Veterans who suffer with Post Traumatic Stress Disorder and Traumatic Brain Injury.
"Having the opportunity to work with a charity like the Patriot Rovers is such a privilege for us" said Quinn. "Members of our armed services do so much for our country, so it's an honor to have the chance to help make a positive impact on their lives."
The Carolina Patriot Rovers, a local non-profit organization, has placed 37 dogs in 18 months. Each dog is trained by David and his team and then paired with a veteran recipient who also receives ongoing training and support from the organization. The dogs are named after fallen heroes with permission from their Gold Star families and the families are also invited to participate when the animal is officially given to the Veteran recipient. Currently, there is a wait list of more than 40 veterans in need of these specially trained animals.
ABOUT MARKET AMERICA, INC. & SHOP.COM
Market America is a product brokerage and Internet marketing company that specializes in One-to-One Marketing. With more than 3 preferred million customers and 180,000 Independent Shop Consultants worldwide, the company has generated over $4.3 billion in accumulated retail sales. Headquartered in Greensboro, NC, the company was founded in 1992 by President and CEO JR Ridinger and employs over 700 people globally with international operations in the United States, Canada, Taiwan, Hong Kong, Australia, United Kingdom and Mexico. Through its revolutionary One-to-One Marketing concept, Market America combines the Internet with the power of people – creating the ultimate online shopping destination. More information is available at MarketAmerica.com (http://www.marketamerica.com).
SHOP.COM is a comparison shopping site designed to meet the shopping needs of the consumer and the business needs of merchants. Leveraging the features of our patented OneCart®, along with extensive partner marketplace integration, and thousands of pages of unique shopping-centric editorial, SHOP.COM helps customers "Shop Smart, Save Big" across thousands of online stores. SHOP.COM also powers ShopCompanion® and The Shopping Vine® (http://theshoppingvine.com), a shopping blog network. For more information, please visit SHOP.COM (http://www.SHOP.com)
ABOUT PATRIOT ROVERS
Patriot Rovers, Inc. is a North Carolina based 501(c)(3) that rescues dogs and trains them as Medical Alert and Response Psychiatric Service Dogs. Dogs are named after fallen soldiers in a partnership with Gold Star Mothers and given, after extensive owner and dog training, free of charge, to soldiers with PTSD and/or Traumatic Brain Injury. Patriot Rovers, Inc. is committed to Saving Dogs, Helping Soldiers, and Honoring Heroes!