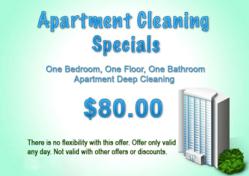 We are licensed, bonded and insured and we only use the top cleaning products for each task
Atlanta, GA (PRWEB) September 06, 2012
EMJ Cleaning, a professional house cleaning service in Atlanta, is now offering great discounts and specials to its current clients and to new customers. For current clients, EMJ is offering an apartment cleaning special that entails deep cleaning for one bedroom, one floor, one bathroom apartment units at a low rate of $80.00. Deep cleaning in the bedroom would involve changing bed sheets, cleaning all furniture and fixtures, vacuuming carpeted areas, vacuuming and moping hardwood floors, removing spider webs, cleaning window frames and curtains or blinds, removing trash and replacing bags and cleaning the air conditioning vents. Deep cleaning in the kitchen would involve cleaning the counter tops and appliances, loading the dishwasher with dishes in the sink (unless the dishwasher is full), scouring the sink, shining the chrome on the sink faucets and replacing the trash bags. Deep cleaning in the bathroom would involve scrubbing the toilet, bathtub, shower and sinks, moping the floor, emptying the trash and replacing the bag and cleaning the counter top, sink and cabinets. Deep cleaning in the living room and dining room would involve vacuuming carpeted floors, vacuuming and moping hardwood floors and cleaning furniture, fixtures and accessories.
In addition to the apartment cleaning special, EMJ is also offering a special that involves regular cleaning and carpet cleaning for your entire home at a low rate of $200.00. Both of these offers are valid to residents who live in the following cities: Alpahretta, Atlanta, Chamblee, Decatur, Doraville, Norcross, Lawrenceville, Lilburn and Roswell.
EMJ has been providing exceptional house and office cleaning services in Atlanta and surrounding cities for over a decade. Owner of EMJ, Eric Cano, states, "We are licensed, bonded and insured and we only use the top cleaning products for each task." If you are interested in learning more about EMJ Cleaning's specials, visit http://www.emjcleaning.com or call 678-966-9469 for a free estimate.