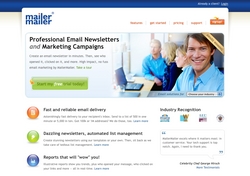 Our new design not only lets customers navigate the site faster, it offers rich content to help newbies and experienced marketers get the data they need and the results they want
Rockville, MD (PRWEB) October 1, 2009
The Web Marketing Association awarded MailerMailer the 2009 WebAward for Application Service Provider Standard of Excellence. This annual WebAward competition judges website development across 96 industry categories.
WebAward entries were judged on seven criteria; design, innovation, content, technology, interactivity, copywriting and ease of use. MailerMailer outscored the industry and WebAward average in the content, interactivity and ease of use categories.
Over the past year, MailerMailer implemented a new site design with simpler navigation and a variety of features to enhance its email marketing service.
"Our new design not only lets customers navigate the site faster, it offers rich content to help newbies and experienced marketers get the data they need and the results they want," said CEO Raj Khera.
This is MailerMailer's second year in a row to win a WebAward. Last year MailerMailer was named the Best Email Website. In addition to providing an easy hands-on email marketing service, the site contains a variety of resources such as tips and how-to articles and ebooks, video tutorials, and widely referenced email metrics reports. Marketing professionals can use these helpful tools and sign up for a free trial account to see first hand why MailerMailer has been recognized for its outstanding developments.
About MailerMailer Email Marketing
MailerMailer is a leading do-it-yourself email list management provider. Equipped with the latest email marketing technology, such as zip code radius targeting, image hosting and the fetch HTML from website feature, MailerMailer allows easy creation of professional email newsletters and campaigns. MailerMailer is part of a series of sites run by Khera Communications, which includes discussion group management tool, DiscussThis, and small business resource site, MoreBusiness.com. A free trial of this email marketing service is available at http://www.mailermailer.com.
About the Web Marketing Association
The Web Marketing Association is working to create a high standard of excellence for website development and marketing on the Internet. Staffed by volunteers, it is made up of Internet marketing, advertising, PR and design professionals who share an interest in improving the quality of website development and marketing on the Internet. Since 1997, the Web Marketing Association's annual WebAward Competition has been helping interactive professionals promote themselves, their companies, and their best work to the outside world. Now in its 13th year, the WebAward Competition has become the premier award event for Web developers and marketers worldwide.
###