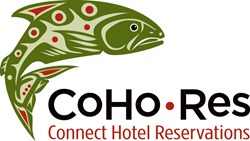 Our goal is to break into larger and new markets, and we're confident we have the right team and leadership to get us there
Vancouver, WA (PRWEB) October 09, 2013
Coho.Res has announced the appointment of Maili Morrison as Senior Director of Marketing and Development effective October 1, 2013. Mrs. Morrison brings more than 15 years of hospitality sales and marketing experience to this role having previously served as the Senior Director of Business Development for CoHo.Res' parent company CoHo.Services, as well as Director of Sales & Marketing for The Heathman Lodge.
"I've worked with Maili for more than ten years. She has a solid commitment to service and an ability to implement creative and strategic marketing initiatives. This fits perfectly with our company's mission of offering the service quality one would expect from a hospitality company combined with the industry's leading distribution technology," says Brett Wilkerson, President of CoHo.Res & CoHo.Services. "In her new role, she will lead our sales and service teams into the next phase of our growth."
Mrs. Morrison has experience in leading the marketing strategy for hotels, restaurants, fitness centers and golf clubs. In her recent role with CoHo.Services she worked with property owners and their leadership teams to develop strong business positions and strategies within their markets. Her experience in the hotel sales arena combined with her knowledge of digital and content marketing made her the ideal candidate to lead CoHo.Res' growth as an electronic distribution provider.
Maili lives locally in the Vancouver area, and is married with a ten year-old son. She is a past-president of Meeting Professionals International Oregon Chapter and the first recipient of the Clark County Commissioners Young Leader in Tourism award. She enjoys traveling abroad with her family, and is currently working towards earning her MBA.
About CoHo.Res
CoHo.Res offers an electronic distribution platform connecting hotels to the entire world utilizing the Global Distribution System (GDS), Internet Distribution System (IDS) and a superior Booking Engine. Using next generation seamless technology, CoHo's platform currently supports over 4,000 hotels worldwide. CoHo.Res is owned by CoHo.Services, a full service hotel and restaurant management company. CoHo.Services owns and manages prime hospitality and commercial real estate in the lush and thriving Pacific Northwest. The company's website (http://cohores.com) contains more information.