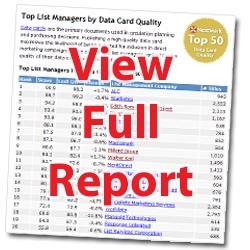 I'm encouraged by what this means for the subscribers to our list research and order processing systems
Hanover, NH (PRWEB) April 14, 2009
NextMark, Inc., a leading provider of direct marketing tools and resources, today published its first quarter 2009 Data Card Quality Report. Among the findings were 17 new companies that made the top 50 for their respective categories, double-digit improvements in the 500+ category, and 11 companies that achieved a perfect score (100) on every data card.
"I'm encouraged by what this means for the subscribers to our list research and order processing systems," noted Scott Chilcutt, Vice President of NextMark and head of the Marketing Information Network (MIN) list services operation. "While it is important not confuse data card quality with list quality, list brokers rely on data card updates for delivering reliable recommendations to their mailer clients. These real-time updates enable the MIN teams to focus on auditing data, custom list research, and other value-added services that give our clients a competitive edge."
Quality data cards are essential to the direct marketing process.
"Our content strategy team has a good handle on the lists that work best for our clients, but we still need to know that the counts, pricing, and other information are up-to-date before making a formal recommendation," said Lisa Donnelly, Senior Director at Merkle, Inc. "Quality data cards give us the confidence we need to stand behind all of our recommendations."
Individual data card scores are calculated using a weighted average of thirteen attributes, with an emphasis on recent updates. The scoring process is reviewed on a quarterly basis, and was refined last quarter to include the next update date as part of the algorithm. The next update date field triggers an email reminder for list managers to edit segment counts in accordance with the update process at the service bureau.
The first quarter 2009 Data Card Quality Report includes a ranking of list management companies by data card quality. A list manager's score is the average of all the data card scores in their portfolio. With an exception to include all companies with perfect scores in category II, the top 5 companies for each category are listed below:
Category I (500+ Titles)
1. Edith Roman & ePostDirect
2. American List Counsel (ALC)
3. Statlistics
4. Macromark
5. Worldata
Category II (250 - 499 Titles)
In the highly competitive category II, there was a 7-way tie for first place with 7 list managers scoring perfectly.
1. Complete Mailing Lists
1. Lighthouse List Company
1. List Bargains
1. The List Experts
1. Media Source Solutions
1. PCS Mailing List Company
1. List Connection
Category III (100 - 249 Titles)
1. Integrated Business Services
1. eTargetMedia.com
1. Charles Moore Associates
4. Marketing Advisory Group
5. W.S. Ponton
Category IV (50 - 99 Titles)
1. Political Fundraising Lists
2. 1TouchMarketing
3. NCRI List Management
4. Profile America List Company
5. Quantum List Marketing
For a complete report of the top list managers, including risers and fallers, visit NextMark's web site: http://www.nextmark.com/mmse/top50-list-managers-dccqr.html
About NextMark, Inc.:
NextMark provides tools and resources that help organizations to buy mailing lists, sell mailing lists, and learn about mailing lists. NextMark currently indexes and tracks more than 74,000 mailing lists from 1,200+ sources. Its solutions have been proven through more than 4,000,000 mailing list searches and 75,000 direct marketing campaigns for thousands of catalog merchants, retailers, fundraisers, politicians, banks, telcos, entertainers, broadcasters, publishers, and other organizations that reach their market directly. NextMark is a privately held corporation headquartered in Hanover, New Hampshire USA and on the web at http://www.NextMark.com with its Marketing Information Network list services operation located in Edmond, Oklahoma and on the web at http://www.minokc.com.
###