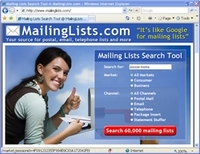 Our goal from the start was to mesh the benefits of technology with empirical knowledge that only comes from personal experience working in the mailing list business
White Plains, NY (PRWEB) March 26, 2009
Infinite Media, Inc., a leading list brokerage and list management company, today announced it has re-launched its MailingLists.com website. The new website is powered by technology and data provided by NextMark, Inc., a leading provider of direct marketing tools and resources.
"Our goal for MailingLists.com has always been to provide marketers with the ultimate tool for finding top-notch mailing lists," said Steven Sheck, President, Infinite media. "However, the old website did not live up to that promise. So, we turned to NextMark to give the website an extreme makeover using their tools and experience. We're extremely pleased with the result and the new website finally fulfills my original goal for MailingLists.com."
The new MailingLists.com website is a mailing lists search engine at its core. It enables users to search a comprehensive index of more than 60,000 mailing lists by type: postal, email, telephone, package insert program, or statement stuffer program. Plus, users can narrow their search by market: consumer or business. Search results are presented in real-time with no login required. The search results provide a portal to in-depth information on every mailing list including profiles, pricing, counts, selects, and restrictions.
The website goes beyond just technology -- free live expert advice is also available.
MailingLists.com is backed by a team of list professionals at Infinite Media who have been in the list business since 1993. They have experience from buying more than a billion names on behalf of discerning clients of all sizes including Home Depot, Walmart, Staples, Pitney Bowes, Sprint, Wells Fargo and many other well-known national and international companies.
"Our goal from the start was to mesh the benefits of technology with empirical knowledge that only comes from personal experience working in the mailing list business," said Mr. Sheck.
According to Joseph Pych, Founder and President, NextMark, "I'm pleased that Steven has realized his vision for MailingLists.com. He's got a valuable piece of internet 'real estate' and I'm glad NextMark was able to help him develop it to its fullest potential. It's an ideal combination of technology and customer service."
The new MailingLists.com is available on the web at http://www.mailinglists.com/
About Infinite Media, Inc.
Infinite Media is a full service mailing list broker that is dedicated to providing comprehensive services for fortune 500 companies, direct marketers and advertising agencies. They are experts in business-to-business and consumer compiled databases as well as vertical list products. In business since 1993, Infinite Media conducts campaigns for some of the most prominent direct marketers in the United States. The company's client list covers a wide range of industries, such as communications, financial services, retail, business services, technology seminars and transportation. Infinite Media is headquartered in White Plains, N.Y. with remote locations in Georgia, Washington, New Jersey, and Connecticut as well as on the web at http://www.infinite-media.com/
About NextMark, Inc.
NextMark provides tools and resources that help organizations to buy mailing lists, sell mailing lists, and learn about mailing lists. NextMark currently indexes and tracks more than 74,000 mailing lists from 1,200+ sources. Its solutions have been proven through more than 4,000,000 mailing list searches and 75,000 direct marketing campaigns for thousands of catalog merchants, retailers, fundraisers, politicians, banks, telcos, entertainers, broadcasters, publishers, and other organizations that reach their market directly. NextMark is a privately held corporation headquartered in Hanover, New Hampshire USA and on the web at http://www.nextmark.com/ with its Marketing Information Network list services operation located in Edmond, Oklahoma and on the web at http://www.minokc.com
###