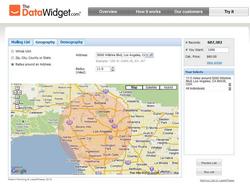 The LeadsPlease Data Widget is hands down the most elegant, easy-to-use list acquisition tool in the market today. If you need to give your site users the ability to purchase lists online, look no further than the Data Widget.
Scottsdale, Arizona (PRWEB) July 14, 2010
LeadsPlease, a printing industry leader in web-to-print and direct mail solutions, announces the launch of the revolutionary DataWidget http://www.thedatawidget.com.
The DataWidget is free to install into any web-to-print application and enables digital printers with web-to-print ecommerce sites to quickly start selling targeted mailing lists online to their customers. Its easy to use revolutionary patent-pending technology is quick to install, there are no setup fees, contracts or commitments and instant margins can be made – enabling seamless prospecting and direct-mail campaigns for local marketing.
The printer sells mailing lists on their ecommerce site at retail prices, but are only charged wholesale prices after the sale has been made = instant margins.
The plug-and-play widget provides real-time maps, counts, quotes and access to a free 'list preview' tool before purchase and boasts unrivalled speed and usability.
The DataWidget
"The Data Widget is the most dynamic and flexible tool to make customers marketing efforts cost effective and profitable. It's economical, quick & very simple to use making it the first choice for our customer's online data purchasing needs."
Todd Gordner/President & CEO – PrintNow Technologies
The DataWidget is a must-have direct marketing tool that gives printers and users a fresh and effortless way to prospect for new customers and build targeted mailing lists online. The clever but simple design is easy to navigate, so a user of any level can quickly find the perfect leads and mailing lists for any type of direct mail campaign. Try it now for free.
The DataWidget houses two of the largest and most superior Consumer and Business databases in the USA, so users can build affordable and reliable consumer or business mailing lists for local or national, B2B or B2C marketing campaigns.
The DataWidget is the perfect prospecting tool for franchises, retail stores, mortgage & insurance brokers, real estate agents, home services, schools and restaurants etc.
The DataWidget is written in JavaScript & CSS, so there's minimal integration work and it's quick and easy to install into any web-to-print application. The free integration guide and free technical support allows printers to quickly and easily embed this superb mailing list and data mining tool into their website and start selling mailing lists online in days.
For additional information about The DataWidget/or LeadsPlease, please contact Graham Brown – Contact details are below. The DataWidget and LeadsPlease trademark/name/intellectual property is protected by copyright. ©2008 LeadsPlease.com. Patent Pending.
About LeadsPlease:
LeadsPlease, a Scottsdale Arizona based company, specializes in providing unique web-to-print solutions and quality direct marketing mailing lists. LeadsPlease provides users with innovative ways to target sales leads and search for potential new customers, perform free counts and quotes online, and download quality mailing lists online in minutes.
###