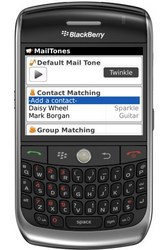 Wye Valley UK (PRWEB) October 29, 2009
Electric Pocket announces a version of its MailTones app for BlackBerry smartphones, offering the ability to personalize the alert tone for incoming emails by setting a different tone for each and every friend, family member or colleague in their Address Book. Users can download a large variety of tones directly to their BlackBerry, including a collection of Spooky Tones in time for Halloween.
MailTones comes with a set of distinctive professional and attention-grabbing tones, or users can either choose from their favorite MP3's or download new alert tones from the web. With MailTones, BlackBerry users can set a tone for a specific user, or one for all incoming emails from a specific domain - making it easy to recognize incoming emails from work colleagues or customers. MailTones can also filter and provide custom tones for messages which include specific words in the Subject line.
The variety of Mail Tones available will help users distinguish high priority emails from their boss or partner from lower priority emails from college buddies, Facebook status updates, or email lists. BlackBerry users can develop their own system for screening incoming emails by setting their default mail tone to silent, or ignore, and using MailTones to set specific tones for higher priority people and subjects. They can then know whether or not to interrupt their meeting or conversation to check their email.
MailTones was designed to integrate well with BlackBerry email, including the addition of a menu to the Mail app, so users can choose any message from their inbox and easily pick a Mail Tone for it. It also comes with a "Do Not Disturb" option, enabling users to set a quiet period so emails won't disrupt them during the night-time or weekend.
MailTones runs on BlackBerry Storm, Tour, Curve, Bold and Pearl, and is available at MailTones.com, all MobiHand-powered stores for $2.99.
About Electric Pocket Limited
Electric Pocket is a privately held company offering leading-edge mobile and wireless computing solutions and services from its base in the Wye Valley, UK. The company's product portfolio includes a rich set of wireless media and messaging applications and solutions. For more information, visit http://www.electricpocket.com.
# # #