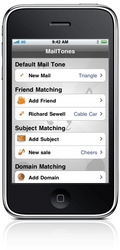 MailTones offers a fun customization for iPhone email, as well as reducing distractions in our already busy days
Wye Valley UK (PRWEB) October 6, 2009
Until now, iPhone users have been stuck with a very bland incoming email tone. With the launch of Electric Pocket's new MailTones, iPhone users will for the first time be able to change the email alert tone and set a different tone for each and every friend, family member or colleague in their Address Book. MailTones will help users to distinguish high priority emails from their boss or spouse from lower priority emails from college buddies or email lists.
With MailTones, iPhone users can set a tone for a specific user, or one for all incoming emails from a specific domain - making it easy to recognize incoming emails from work colleagues or customers. MailTones can also filter and provide custom tones for messages which include specific words in the Subject line.
MailTones comes with a collection of 25 tones ranging from discrete bells to more audacious horns and buzzers. Many users will find it convenient to set their default mail tone to silent, or ignore, and use MailTones to set specific tones for higher priority people and subjects.
MailTones can optionally pop up on the screen and display the sender and subject of an incoming email so users can know instantly whether or not they need to launch the Mail app to read the message.
"MailTones offers a fun customization for iPhone email, as well as reducing distractions in our already busy days" said Iain Barclay, Electric Pocket's Chief Product Officer. "By setting distinctive alerts to messages that matter, MailTones clues you in as to whether you need to interrupt your lunch conversation to with an incoming email or if it can wait until later."
MailTones offers simple set-up from Gmail, MobileMe and any server which supports "forward a copy" forwarding of email. It is available in the App Store, with a launch price of US$2.99. More information is on the MailTones website at http://mailtones.com.
About Electric Pocket Limited
Electric Pocket is a privately held company offering leading-edge mobile and wireless computing solutions and services from its base in the Wye Valley, UK. The company's product portfolio includes a rich set of wireless media and messaging applications and solutions. For more information, visit http://www.electricpocket.com.
###