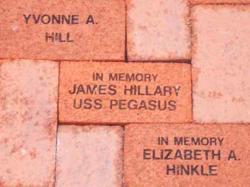 Gettysburg is the best known small town in the world. Now you can have a piece of that legacy by purchasing a brick through Main Street Gettysburg during the 150th anniversary of the Battle of Gettysburg. - William Troxell, Mayor of Gettysburg
Gettysburg, PA (PRWEB) May 24, 2013
Main Street Gettysburg has announced its launch of the "Pathway of Preservation" engraved, commemorative brick campaign. Members of the public can leave their legacy in Gettysburg by making a $150 donation – in recognition of the 150th anniversary of the Battle of Gettysburg and Gettysburg Address this year – to order limited edition engraved bricks. The engraved bricks will collectively lay the foundation for the preservation of Gettysburg's future and will become a lasting part of the historic pathways in downtown Gettysburg. Bricks can be ordered directly through Main Street Gettysburg's website http://mainstreetgettysburg.org/bricks.
Each engraved brick can be personalized by the donor and can include a tribute in honor of, in memory of, or in recognition of the 150th anniversary of the Battle of Gettysburg and Gettysburg Address.
"Gettysburg is the best known small town in the world, and now you can have a piece of that legacy by purchasing a brick through Main Street Gettysburg during the 150th anniversary of the Battle of Gettysburg and the Gettysburg Address," said Gettysburg Mayor William Troxell.
"I cannot think of a better time to honor someone special – a veteran, a family member or just to show your patriotic or community pride – during this 150th anniversary year," said Deb Adamik, President and CEO of Main Street Gettysburg.
Each brick holds two lines of 15 characters each. The bricks may contain the name of one person, business or organization. The $150 donation is tax deductible and will allow Main Street Gettysburg to continue its work in the preservation and revitalization of historic Gettysburg for the benefit of its citizens, businesses and visitors.
For more information about ordering an engraved brick, please call 717-337-3491 or email info(at)mainstreetgettysburg(dot)org.
About Main Street Gettysburg
Main Street Gettysburg is committed to preserving the historical, physical and inspirational legacy of the town. Main Street Gettysburg's initiatives preserve historic buildings, streets and the ambiance of the town and tell the stories of both the men who fought here and the inspirational citizens who left their legacy in Gettysburg. To learn more about Main Street Gettysburg, visit http://www.mainstreetgettysburg.org.
###