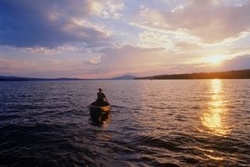 All of our properties will feature private lake frontage and docks, complemented by exquisite furnishings and design
Falmouth, ME (Vocus) April 3, 2009
Eager to share their enthusiasm for Maine lakefront living with other families, locals Perry and Melinda Williams announce the creation of a new private residence club in the Sebago Lake Region. Maine Lakefront Club will comprise a collection of existing, estate-style homes with an average price of $1.5 million - deeded, shared ownership is available for $275,000. The Williams are in the process of closing on the first home, and will add more properties to the Club's portfolio as demand necessitates.
The Club's hassle-free ownership and affordable luxury will provide a highly desirable vacation home alternative for frequent visitors. "All of our properties will feature private lake frontage and docks, complemented by exquisite furnishings and design," says Perry Williams. "The lack of new construction makes Maine Lakefront Club an environmentally friendly project, and the use of existing homes means we'll have some of the most desirable locations available in the Sebago Lake Region."
Maine Lakefront Club offers exclusive services and amenities unrivaled by ordinary vacation rentals or whole ownership properties in the area. Owners will benefit from daily housekeeping, pre-arrival grocery shopping, and year-round maintenance. Canoes, kayaks, and bicycles will also be on hand for member use. A concierge is available to coordinate boat, jetski, and snowmobile rentals; babysitting services; dinner reservations; golf tee times and more.
Unlike most residence clubs, Maine Lakefront Club offers a dog-friendly vacation home experience. As pet owners, the Williams recognize that including the family dog is integral to the lakefront vacation experience. "Sebago Lake provides as much adventure for dogs as it does for families," Williams explains. "This type of vacationing would be incomplete for our members without their best friend."
Maine Lakefront Club is a joint venture with DCP International℠, pioneer of the private residence club concept. In 1991, DCP founded the world's first PRC, the Deer Valley Club, in Deer Valley, UT and has since consulted with developers on dozens of residence clubs worldwide.
DCP Principal Steve Dering says, "Residence club ownership is a sensible purchase in any economy because the risk is minimal while the benefits are tremendous. Pricing reflects the amount of use people typically get from their vacation homes, while offering the added value of resort-style services and amenities." He adds, "By its very nature, private residence club ownership is a green way to enjoy a vacation home since multiple owners share a residence. This eliminates the wasteful practice of developing multiple, whole ownership units that typically are unoccupied 70 percent of the year."
The Williams have committed to donating one percent of gross profits to The Lakes Environmental Association based in Bridgton, ME, and staff will manage the properties in an eco-friendly manner. "Maine lakes have provided years of enjoyment for our family and our pets," Melinda Williams says. "We want to ensure that the lakes remain pristine for future generations of Maine enthusiasts."
Media Contact:
Hilary Reiter
435.645.7500 x105
http://www.mainelakefrontclub.com
# # #