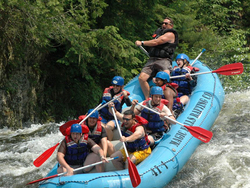 West Forks, ME (PRWEB) April 8, 2010
As travelers seek to maximize their travel budgets and wring the most value out of their vacation time, they are cramming more activities into a shorter vacation. In response to this travel trend, Magic Falls Rafting Co. of West Forks, Maine, has developed its Outback Adventure Trip that offers all the elements of a Maine wilderness vacation in just two days.
On day one, adventurers raft the Kennebec River followed by an outdoor barbecue of steak, chicken, fish or veggie burger and a slide and video presentation of their rafting trip. Then, it is off for a short hike to 90 foot Moxie Falls, (Maine's highest waterfall), a swim in the pools above the falls and a wildlife safari by van in search of moose, deer, eagles and osprey. Upon return to base camp, vacationers can float down the Dead River in float tubes, lounge in the hot tub, play volley ball or use the outdoor climbing wall. Magic Falls staff will set up tents, build a campfire and serve dinner with choice of steak, chicken or Maine's famous lobster. There is home-made ice cream and smores for desert. On day two, after a hearty camp fire breakfast, adventurers will raft the upper Kennebec Gorge and then paddle the six mile Class II and III lower section of the Kennebec River in an inflatable kayak.
Magic Falls Rafting Co. supplies the tents, camping equipment, thick sleeping pads, rafting gear and transportation. Vacationers supply pillows, sleeping bags, bathing suits, warm clothes, windbreakers or rain gear, sturdy footwear and a flashlight.
For the Family Outback Adventure, the minimum age is 10 and no alcohol is permitted. For the Adult Outback Adventure, guests must be 21 years of age. The Outback Adventures run June through August. The price is $189 per person.
Says Magic Falls Rafting Co.'s owner, Dave Neddeau, "This will be our third year offering our overnight Outback Camping Adventure. Each year, we've increased the number of participants and we've even been cited by Air-Tran's in-flight magazine as one of the top 20 family adventures in the USA."
Information on the Outback Adventure is available on line at magicfalls.com or by phoning 1-800-207-7238.
###