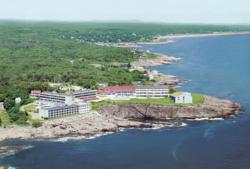 The Maine coastal resort features state-of-the-art conference facilities and an oceanfront setting.
Ogunquit, Maine (PRWEB) November 12, 2012
Meeting planners looking for a healthy venue find it at the Cliff House Resort & Spa on Maine's beautiful south coast. Just an hour north of Boston, this Maine coastal resort features state-of-the-art conference facilities with an emphasis on locally sourced foods and stress-soothing amenities. It is a Maine conference facility with everything meeting planners need for a corporate meeting with healthy touches.
The Cliff House offers these three tips for planning a healthy business meeting:
1. Serve fresh local foods.
Conference-goers seek smart food options with fresh, local ingredients. The Cliff House uses freshly prepared, locally sourced ingredients for creative menu options that emphasize local cuisine.
2. Pamper attendees.
Allow attendees time to relax and rejuvenate. Whether offering complete spa treatments, a meditative walk or deep breathing exercises, conference-goers will appreciate and respond to a little pampering. The Resort's world-class spa offers a variety of stress-reducing, immune-boosting therapies from pampering massages to full body wraps. The new Seaside Paradise is a head-to-toe facial that uses marine and botanical essences to cleanse, exfoliate and detoxify face and body. The Resort works with meeting planners to offer full spa packages for complete relaxation or mini spa sessions that fit easily into any meeting agenda.
3. Include stress-busting activities.
Healthy group activities allow participants to connect, get some exercise and reduce stress – the perfect prescription for recharging professional batteries.The Cliff House offers a variety of healthy activities inspired by the coastal setting: an indoor pool and fitness facility along with access to nearby golf, sea kayak excursions, oceanfront walks, lobster cruises and surfing.
A certified Environment Leader, the Cliff House has a healthy approach to energy efficiency, including solar heated hot water for spa building guests. Bracing Maine salt air completes the picture of health.
For details and tips for meeting planning, visit cliffhousemaine.com or call (207)361-1000.
###
The Cliff House Resort & Spa, located on 70 oceanfront acres in southern Maine, offers premier guest services, fine dining, a world-class spa and conference facilities. Owned and operated by the Weare Family since 1872, the resort is celebrating its 140th season in 2012. More information can be found at http://www.cliffhousemaine.com, on Facebook or by calling (207) 361-1000. Media inquiries should be directed to Jessica Gilman at Vreeland Marketing & Design: jgilman(at)vreeland(dot)com or (207) 846-3714.